Workshop - Watermill Blog
28th October 2008
We re-arranged the workshop today, moving the work benches from under the windows to the end wall.

This is something we have been working towards for several weeks as it clears the space under the windows for the display of the restored chaff cutter.

At the moment the chaff cutter is tucked in a corner of the stable workshop with most of its ornate paintwork facing a wall. Moving it out to a new location will show it off much better while still allowing it to be driven from the line shaft directly above.

Just about everyone got involved in moving the benches, everyone being Martyn, John, Bob, Headley, Dick, Kim and Richard. Part way through the morning we were joined by a new volunteer, Jim who comes from Kidderminster and brings some woodworking skills with him. Welcome Jim.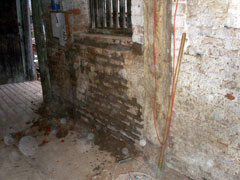 Moving the benches exposed the brick wall under the windows and yet more neglect. John and Bob set to to repair the brickwork, mostly pointing up but some bricks needed to be replaced.

Once the mortar has dried the wall will have to be limewashed and the slatted windows need a bit of tender loving care as well.

Richard and Jim put their heads together to make a plan of action for the construction of a copy tun for the upstream pair of millstones. Work on this was started by Richard many weeks ago but was put on hold while the new timber dried out a bit.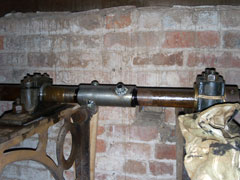 Martyn and Kim fitted a purpose made connecting sleeve between the two sections of line-shaft. This will carry power into the inner section of the hay-loft above the planned location of the chaff cutter.

With weather turning colder we have moved the table and chairs up into the hayloft. Ironically the sun was shining as we took our morning break but by lunchtime there was a very cold rain falling and even after the rain stopped it stayed cold so we were more than happy to shelter inside with a gas heater for comfort.

This was the first working day since the clocks changed but the cold sent us home before we could complain about how early it was getting dark.

Go to the next entry after this workshop story

Go to the previous Watermill Blog entry

Learn how to Support Us

Return to our Home Page