Pensioner Power - Watermill Blog
30th October 2008
Pensioner power is sometimes the quickest way to get a job done. Today we needed to move three concrete water troughs that were in the way.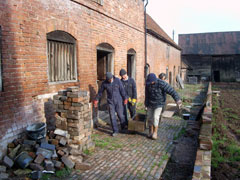 Work is due to start on the repair of the brick paving and the troughs were re-located to outside the mill. Hopefully these will become planters for a bit of colour in the summer.

The picture shows almost all of the team for today, Bob, John, Martyn and Max. Richard was taking the picture and Jonathan arrived after the heavy lifting was done. The first thing after moving the troughs was a coffee break, after all each trough weighed about three hundredweight, 150 kilos if you prefer modern measures.

After coffee, Richard worked on the copy tun, Jonathan carried on with the wall plate repair, Bob and Max repaired a bit more of the stable wall and Martyn and John repaired some flooring in the mill.

The stable wall had a channel under it for drainage and the brickwork above this channel was in a very poor condition.

Bob worked from outside and Max was inside and by working together they managed to make the wall secure.

The entire stable wall needs to be re-pointed but this is going to have to wait for much warmer weather than we are having at the moment.

The south west corner of the mill suffers very badly from damp penetrating the wall and always has. Any leakage from the big penstock valve adds to the natural ground water and the splash from the wheel to make sure the outside of the building is constantly wet.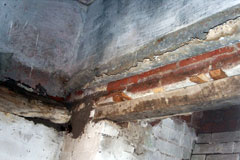 Any timber in contact with the brickwork has to be tough to survive and some of the floorboards weren't tough enough.

Martyn and John repaired most of the boards in this corner and only had to replace one. While the floorboards were out they noticed that there was no lintel above the light well opening.

We already had a suitable length of timber so a replacement was soon made and in place. The picture shows the lintel in place. You can also see the effect that the constant damp has had on the oak beam to the left of the photo.

Even if it wasn't quite as cold as Tuesday we didn't linger long after four o'clock, heading home before it got dark.

Finish reading about pensioner power and go to the next entry

Go to the previous Watermill Blog entry

Learn how to Support Us

Return to our Home Page