Lock and Key - Watermill Blog
23rd October 2008
John N is an occasional team member and he is always most welcome. Today he acted as delivery man for the original lock from the front door of the mill.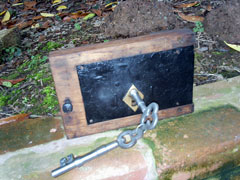 MAC member Keith Squires was responsible for the repairs to the lock and the supply of a pair of keys and we owe him a big vote of thanks for his efforts.

The lock is about 180 years old which would suggest it was installed at the same time as the brick shell of the mill building which seems to date from the early 19th Century.

We had a good number of volunteers on site today with John N being joined by John D, Jonathan, Martyn, Colin, Headley, Dave, Max, Bob and Richard. Limewashing duties fell to Dave, Max and Bob while Headley avoided paint brushes by working on the framework of a cover to go over the PTO drive channel.

Headley has made an S shaped wall brace, matching ones already in place, which will be fitted at the eastern end of the stable where there is a slight bulge in the brickwork.

Richard did a bit of woodwork, shaping segments of the tun plinth. One of the segments has a channel for the flour to drop through to the hopper below, so the job entailed a bit more than just cutting to shape.

Martyn and Colin worked on cleaning up the parts of the root shredder using a temporary sand-blasting cabinet. There are many years of rust on some of the bits so this could be a job that lasts for several working days.

John N fitted the old lock back onto the front door as we found it, upside down.

With that job done he joined John D and Jonathan preparing the ground between the mill and the church for grass seed.

The day ended with another run of the wheel. The excuse was to check everything was in order before a visit on Sunday, but everybody just wanted to play really.

Go to the next Watermill Blog entry

Go to the previous Watermill Blog entry

Learn how to Support Us

Return to our Home Page