National Mills Weekend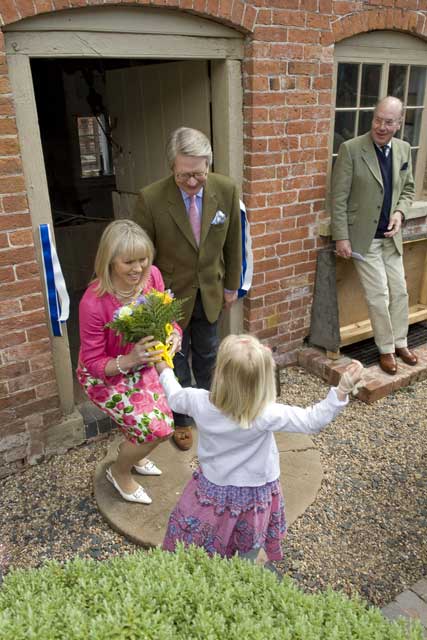 We opened the mill for National Mills Weekend for the first time in 2010. We made that a Grand Opening with a ribbon cutting ceremony and you can read the report here. Every year since then we have welcomed visitors on both days of the Weekend.
Mills Weekend is the annual festival of our milling heritage and provides you with a fantastic opportunity to visit mills, many of which are not usually open to the public. For information about the weekend and details of other mills that will be open you can visit the officiall Mills Weekend website.

Mills Weekend 2018
This year the weekend falls on the 12th and 13th May. We will have the mill open from 11am until 4pm on both days and as long as nothing breaks we will be milling flour from 2pm each day until we run out of water, usually about 3:45pm.
We don't have a fixed admission charge but we do ask for donations. These help to keep the mill running and in good repair
Refreshments will be available on Saturday afternoon and all day on Sunday. Strong Wholemeal Flour will be available in return for donations.

There are now brown tourist signs for Shelsley Walsh Hillclimb with a chequered flag on them that make it much easier to find us and you can view a map by clicking here. 
The very wet weather in the early part of the year has forced a re-arrangement of fixtures at the Hillclimb and there is now an event taking place on the same weekend. Free parking for the mill will be clearly signposted. Admission to the mill is still free but anyone wishing to view the Hillclimb action will be expected to pay to access the spectator areas of the hill.
If you are not rushing off to visit another mill you might like to visit St Andrews Church, a lovely example of a 12th Century country church. More energetic visitors might like to walk up the hill, it's only 1000 yards to the Finish Line and the views of the Teme Valley from the top of the hill (weather permitting) are beautiful. Walkers only though, no cars allowed on the hill.
If you can't make it on these dates why not check out our Opening Times for other opportunities or make up a group and book a private viewing. We would love to see you and show off what we believe is the last working water-powered corn mill in Worcestershire
Read enough about National Mills Weekend? Click here to go to our home page.