About us at the Society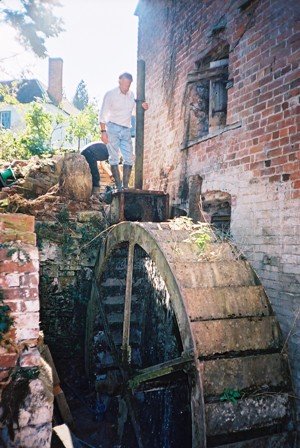 What can we tell you about us?
The Shelsley Water Mill Society was formed in early 2006 to restore the watermill to working order.
The objective is to use the restored watermill as an educational resource and visitor attraction open to the public on published dates and also by appointment. The restoration of the mill pools has also provided a habitat for aquatic wildlife and we now have resident moorhens and many other visitors including muntjac deer.
In the late 19th and early 20th centuries the waterwheel provided power to machinery in nearby farm buildings as well as grinding and the restoration of this feature has been successfully completed.
The Society currently has about 20 members, of whom a dozen are actively involved in the restoration. The members bring a wide variety of expertise to the society including building, engineering, education and IT.
The mill is part of the Winnington estate and is on land that is leased to the Midland Automobile Club. A separate lease for the mill has been granted and the Society is a Registered Charity, No. 1119771.
If you like our site and want to know more about how and why it is built please click here to see "Why a web-site".

Return to the home page and leave About Us