Wood & Paint - Watermill Blog
15th - 29th January 2009
Much work with wood and paint has been done in the last five working days.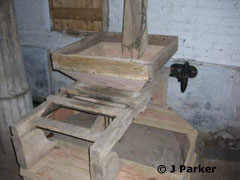 Jim has completed the construction of the grain hopper for the upstream pair of millstones. We only need something to catch the millings in to be able to try this pair of stones on some grain.

Outside the mill the bricklayers, Jonathan and John, have completed all the coping bricks on the walls. They also spent time recovering used bricks from the old cess-pit for use elsewhere on the site.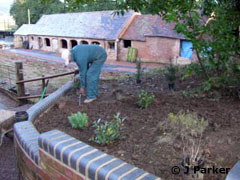 An enormous amount of tidying up and clearing has been done. The MAC have provided a skip and a lot of rubbish has been cleared while Tony has planted a number of shrubs.

A very striking visual difference is the re-laying of the brick paving outside the stable. This wasn't done by the mill team but by contractors working for the MAC and has greatly improved things underfoot.

Bob has continued to wield his limewash brush, pausing only to teach the rest of the team some new swearwords when some limewash found its way past his eye protection. Lots of clean water was the cure.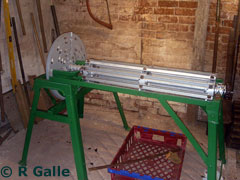 A lot of work has been put into the clean up and re-painting of the root shredder.

Several members of the team have worked on this with a variety of tools and it has now reached the stage of being re-assembled.

The picture shows the largest assembly so far but most of the remaining parts have also been painted and will be ready to fit next week when the paint has dried.

This is a brief summary of the activities of the last five working days. The webmaster has to thank the rest of the team for keeping him informed of progress and supplying pictures while he was indisposed. Hopefully normal reporting will resume next week.

Go to the next entry after this wood and paint story

Go to the previous Watermill Blog entry

Learn how to Support Us

Return to our Home Page