Grain Hopper - Watermill Blog
13th January 2009
Progress with making a new grain hopper was one of the day's achievements for the team today. Richard didn't arrive until lunchtime and Martyn left immediately after lunch but the rest of the team, Jim, Kim, John, Bob, Jonathan and Tony all managed a full day.

Jim picked up the work on the grain hopper from where it was left before Christmas and made excellent progress.

The bottom half was assembled and a good start on making the top half and fitting it into the original top frame.

While John and Jonathan continued to lay coping bricks to finish off walls alongside the main steps Martyn, Kim and Bob worked inside the mill checking timbers.

One piece of timber proved to be almost completely decayed away even though it looked allright from outside. We are not sure what this particular beam is for as it does not appear to do anything except take up space that could be occupied by bricks, and there is no sign that anything was ever fastened to it.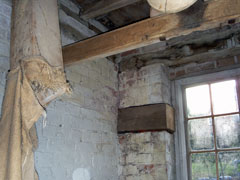 They decided to replace the beam anyway, even though we don't understand it. We already had a suitable piece of eight inch square timber, (it used to be a gatepost) so the recess was cleaned up and the new timber inserted.

It took a few trials before the recess was completely clean but the job was completed just in time for lunch.

Tony finished tidying up the stream bank by the Bird Barn and turned his attention to the grating over the pool spillway. This has collected a vast quantity of twigs and branches and he has cleared all these out and left them to dry ready for the next bonfire.

The evening may be drawing out but the temperature was dropping fast as we packed up for the day. We were all clear of the site by 4:20 at the end of another satisfying day.

Go to the next entry after this grain hopper story

Go to the previous Watermill Blog entry

Learn how to Support Us

Return to our Home Page