Another Window Completed
7th June 2007
We concentrated on completing the second window today, the one in the north gable wall away from the waterwheel and the wagtail nest. The team for the day was Colin, Headley, John, Max and Richard.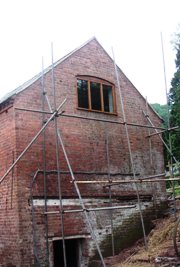 Richard had cut the fillet piece to shape at home and Colin and Headley tried it for size. Richard always stays firmly on the ground and has been known to complain that he gets vertigo from just watching other people up ladders! With a few adjustments to protruding mortar and a bit of reshaping the fillet was fitted and fastened in place. John pointed up around the frame to finish the weather proofing. John had been planning to make a start on the wall that we made footings for on Tuesday but the wagtails made it quite clear that they didn't like us that near the nest. With the window firmly in place, Headley finished the staining of the new timber and the scaffolding was ready to come down.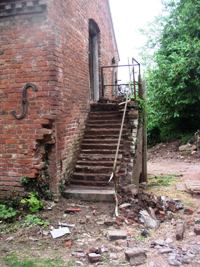 With the area around the waterwheel effectively out of bounds Max made a start on clearing the steps that lead up to the loft area above the stable barn. Weeds and much more substantial roots have loosened much of the brickwork and made these steps very unsafe. With a little light labouring help from Richard, Max removed all the loose bricks and the weeds and roots that had loosened them and established that the underlying structure is sound. The pair of them then spent the rest of the day cleaning the mortar off the bricks that had been removed ready for them to be re-used.
The wagtail chicks appear to be thriving and keeping their parents busy. Whenever we went round that end of the mill one or other of the parent birds would be close by, usually with a beak full of food, and always noisily complaining about our presence. Hopefully the chicks will fledge soon and we will be able to get at the waterwheel and do a trial fitting of the new bearing.
The sum total of the day was one window completed, one flight of steps cleaned and made safe and a start made on dismantling the scaffolding. Oh, and the wagtail family still intact.

Go to the next entry by clicking here.

Seen the new window? Click here to see the previous article.

Leave the Shelsey Mill Blog and return Home.