A Gift of Lamingtons
12th June 2007
We were greeted with a parcel of Lamingtons when we arrived to start another working day at the mill. Lamingtons are an Australian sponge cake covered with chocolate icing and rolled in desiccated coconut and these had arrived from our Aussie supporters via Colin. The label says it all.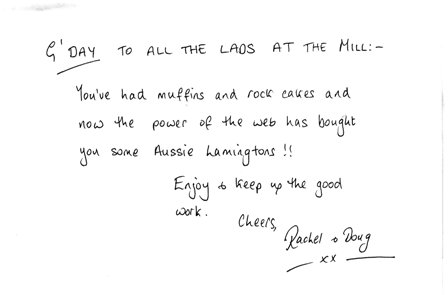 The first job of the day was to finish dismantling the scaffolding. The team of Colin, Headley, Dave, John and Richard worked on that while Derek continued the seemingly endless job of tidying the site. The scaffold was soon down and Derek had his bonfire lit so we took the first break of the day to try the Aussie delicacies. They disappeared quite quickly, which say it all. Thanks Doug and Rachel.
Another early task was to check on the status of the wagtail nest. There was no sign of the parents near the waterwheel so we approached the nest to find it empty except for one cold egg. We can only assume that the chicks have fledged and are out and about.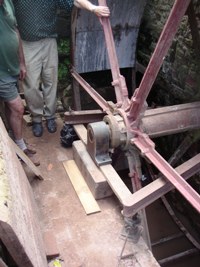 Now we can work by the waterwheel again we took the opportunity to do a trial fit of the new bearing. The wheel was quickly jacked up and the new bearing offered up. It didn't fit! However it only required the removal of the rusty layer from the journal to get a good fit. It has to be said that removing that layer of rust involved turning the wheel and did take some considerable effort but it was worth it because the new bearing looks right when it is place as you can see. It will have to come off again to have a greaser fitted. MAC member Keith Squires has found us an authentic period Stauffer greaser and we will fit this to the bearing before everything is bolted down.
In the afternoon we had a group of visitors consisting of the Archaeologist and the Historic Planning Adviser from Worcester County Council and the Senior Planning Officer and the District Conservation Officer from Malvern Hills District Council. They had a meeting with Rob May; the Chairman of the MAC's Building Sub-Committee, and then had a tour of the mill. Clearly the mill is considered to be of some considerable interest and worthy of their close attention.
The last tea break of the day also saw the last of the Lamingtons and we tidied away all the tools with nice thoughts about our Australian supporters. There are still plenty of bricks to be cleaned up the next time you come over, Doug!

Go to the next entry by clicking here.

Jealous of the Lamingtons? Click here to see the previous article.

Leave the Shelsey Mill Blog and return Home.