Waterwheel work again
14th August 2007
It may be called a waterwheel but the team would much rather the water stopped falling from the sky onto the wheel. The weather forecast for the day was pretty miserable but the team met as usual this morning. In an attempt to get some work done we rigged a bit of a shelter over the wheel to keep the worst of the rain at bay.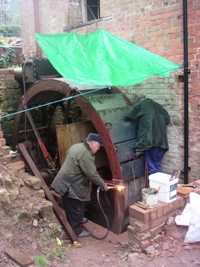 It was too wet for John to do any bricklaying so he spent the day preparing footings for the wall alongside the side steps. The rain gives an interesting finish to freshly poured concrete, its almost a shame to cover it up with brickwork. As it turned out, the weather was not as bad as forecast, consisting of short dry spells interspersed with periods when the air was wet. The only real rain stopped by mid-morning.
The rest of the team, Martyn, Colin, Headley and Richard, concentrated on the waterwheel. Some of the buckets are tricky to slot into place because they clash with bolts through the side of the wheel. These are large square bolts that secure the spokes to the segments of the side plates and they have not moved for at least a hundred years. The judicious application of heat meant that Headley could undo the nuts and remove the necessary bolts to allow for bucket insertion. After the bucket was securely in place the square bolt was replaced.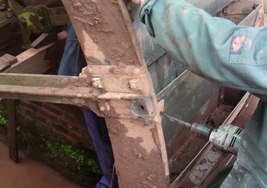 The need to remove these bolts did slow us down a bit, but we managed to fit two of these awkward buckets as well as a couple of more straightforward ones. A quick count before we packed up for the day showed a total of two sole plates and five buckets are still need to finish the job. These are all made and available so we are getting close to having a complete waterwheel. There are still jobs to do though, three of the spokes need splints to repair cracks in the castings. These cracks are a feature of wheels made by Turtons and three other spokes have already been splinted, so we are not too worried. We also need to finish the installation of the outside bearing, fitting the greaser and bolting it down onto a suitable block.
Altogether it was a satisfying day, even if it was a bit damp.

Go to the next entry by clicking here.

Read about the waterwheel? Click here to see the previous article.

Click here to see how you can support us.

Leave the Shelsey Mill Blog and return Home.