Brick Steps, etc.
16th August 2007
Two flights of brick steps saw some progress today, outside the hayloft and alongside the waterwheel. The waterwheel also had some more work put in and we even managed a little gardening.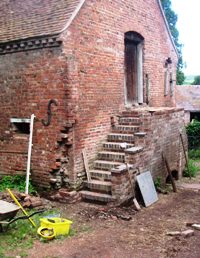 Max and Dave worked on the hayloft access, Max at the top paving the platform outside the door and Dave at the bottom investigating the corner of the barn that seems to have lost a few bricks. Dave discovered another step below the current ground level, perfectly sound and complete so we will work to this. We had already decided that there had been a change in levels at some time in the fairly recent past and this was the best confirmation to date. We will have to get the digger back in because there is just too much soil to be shifted to dig it out by hand, but there is no great hurry.
John N joined us for the day and did a great job of tidying up our stack of pavers and engineering bricks and removing a layer of weeds. John only joins us occasionally, but always seems to enjoy himself and put in a good days work.
Martyn, Headley and Richard spent the day on the waterwheel. The last two sole plates were fitted by the time we stopped for the first break of the day and it looked as though we might get the last five buckets in as well. In the event we only managed to fit two buckets, not because of any serious snags but because we ran out of nuts and bolts. Further supplies have already been ordered but we just worked too fast. Even with this hiccup it will take something major to stop us from being able to demonstrate a working waterwheel at the September hillclimb meeting.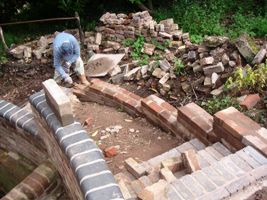 John D carried on with the wall he has been working on for some time. The footings he poured on Tuesday survived the rain and are now safely covered with new brick work. John is as impatient as the rest of us to see the wheel finished so that he can get at the bottom of the flight of brick steps that he is building without the wheel building crew getting in his way (and vice versa).
As always there has been a fair amount of discussion about what we need to do next. The consensus seems to be for a concentration on the landscaping around the building. If we have a working waterwheel in a 'cared-for' setting by the end of the year we will all feel that we have achieved a good milestone even if the internal workings of the mill still need attention.

Go to the next entry by clicking here.

Happy with brick steps? Click here to see the previous article.

Click here to see how you can support us.

Leave the Shelsey Mill Blog and return Home.