More waterwheel work
7th August 2007
The main focus of the day was the waterwheel. There was a brief pause at the beginning of the morning while the webmaster caught up with last week's efforts and then we got down to work.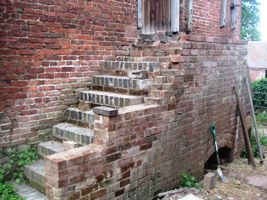 John continued the restoration of the brick steps up to the hay-loft. This seems to have made good progress in the last week and today was much the same. The photo was taken when we arrived this morning and by the time John had to leave the platform outside the door was virtually complete. We have had a donation of paving blocks that will make excellent capping for the side wall.
Martyn and Colin spent last Thursday manufacturing twenty more buckets for the waterwheel and together with Headley and Richard they set about fitting these. The more we work on the wheel the greater our respect for the men who built the waterwheel in the first place without the benefit of our modern power tools. Each bucket is held in place by either ten or thirteen bolts. The difference is determined by whether the bucket meets the sole plates at a join or in the middle of a plate.
With Richard and Headley on the outside fitting buckets into the cast iron sockets and Martyn and Colin inside the wheel drilling through the sole plates we had three buckets in place by lunchtime. After lunch we managed to get another three installed but without their full complement of bolts. Another two or three days like this would see all the buckets in place, but that is a bit like counting chickens. Still it does seem to be likely that we will be able to turn the wheel by water power by the autumn of this year.
Away from the practicalities of the restoration, fund-raising is going ahead with a number of donors taking advantage of the Gift Aid option. We would like to thank everyone who has contributed to the mill restoration in any way.
Work on the mill-pool is continuing with the spillway nearly complete in spite of the excess water that has flowed over and around the dam in the last few weeks. At least the pool stopped the torrent of mud that washed down the hill from ending up in the farmyard or the MAC paddock.

Go to the next entry by clicking here.

Enough waterwheel progress? Click here to see the previous article.

Click here to see how you can support us.

Leave the Shelsey Mill Blog and return Home.