Watermill Blog -  Hurst Repair
18th March 2008
The team spent quite a lot of the morning in discussions with Tim Booth. Tim is an expert on watermills and has given us a great deal of excellent advice and support.

The discussions ranged from the sack hoist mechanism to the windows and most of the mill in between. We even discussed the colour of paint to use.

The major item for discussion was the rotten hurst post and how we can repair it. Having seen the rotten state of the post that has come out, Tim has agreed that our proposal to retain the top of the original post and splice new timber below it is a sensible repair.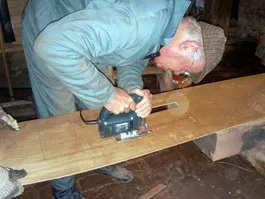 This method will ensure the structural integrity of the hurst and will preserve the history of the old repairs as well.

Now we know how we are going to go about the job we had a collective fit of the jitters about cutting into several hundred pounds worth of oak.

Its one thing to waste a few feet of knotty pine from B&Q but spoiling a piece of oak that takes four of us to lift is another matter entirely. Its not as if we can offer the parts up together to check the fit.

The solution thta Martyn, Colin and Dave have come up with is to make a plywood template that we can chop about until we are happy that all the dimensions are spot on. The picture above shows Colin cutting out the mortises for the double tenon on the bridge tree. Cutting the real mortises in the oak will be a bit more than a jig-saw job!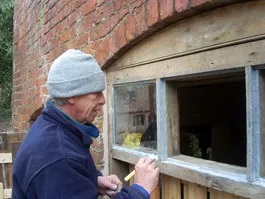 While all this talking was going on, Kim quietly got on with glazing the three panes above the ground floor barred window.

The difference inside the mill as the last pane of glass was put in place with a sharp reduction in noise from outside.

Unfortunately Kim ran out of putty so we couldn't persuade him to start on the firts floor windows.

Richard did manage to tear himself away from the discussions and do a bit more work on the front windows. He is getting the hang of making the joints in the slender glazing bars and might even get quite good at it by the time he has done all the repairs. At least we now know that they will need to be painted white when they are finished, probably with lime wash.

Go to the next Watermill Blog entry

Go to the previous Watermill Blog entry

Learn how to Support Us

Return to our Home Page