Watermill Blog -  Clearing Up
16th September 2008
We had a clearing up day today at Shelsley Watermill, with a good team getting the mill ready to receive visitors at this weekend's hillclimb meeting.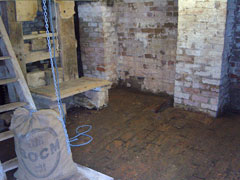 Dick concentrated on the ground floor of the mill where the brick floor made a welcome re-appearance.

This area was used as a workshop while we were repairing the hurst and again while the cogs were being fitted into the great spur gear and the sawdust and shavings had formed a deep layer.

As you can see this has all been cleaned up and looks almost workmanlike. All it needs now is a a coat of lime wash to brighten it up.

Several people got involved in re-hanging the gate between the mill and the farmyard. In particular Colin drilled holes for the hinge pintles and Richard hammered them in with a big hammer. Bob then fabricated a cap for the gatepost from a scrap of galvanised steel. Practically everyone offered an opinion on how it should be done.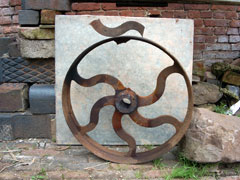 Headley and Kim finally got the pulley off the donated line shaft but they had to cut the shaft to do it!

As you can see, one the spokes broke completely and another is cracked across at the boss. These are weldable but we may use an alternative pulley instead.

The line shaft, bare of any pulleys, was carried up to the hay-loft and laid in the bearings with an end sticking out over the yard ready for a pulley to be hoisted into position. We are waiting on a supply of bearing shells before we can go much further with this.

Quite a large part of the afternoon was occupied playing with demonstrating the sack hoist to the team members who hadn't seen it working before. Richard took the opportunity to take some more video clips so we might see the definitive "How the sack hoist works" video on YouTube soon.

The team today was, in no particular order, Richard, Finton, Dick, Colin, Bob, Kim, John and Headley. Almost everybody got involved in every task today, even if it was only watching!

Go to the next Watermill Blog entry

Go to the previous Watermill Blog entry

Learn how to Support Us

Return to our Home Page