Watermill Blog -  Limewash
18th September 2008
Most of the inside of the mill used to be treated with limewash and we made a start today on applying another coat. 

This watermill blog is probably going to mention this quite often in the coming months.

Limewash is a very old form of paint made from limestone. It soaks into porous surfaces and hardens by absorbing carbon dioxide from the air, forming calcium carbonate. It is naturally white, breathable and antiseptic.

We are using it on the brickwork and only those timbers which had obviously been limewashed in the past.

Bob and John started in opposite corners of the ground floor. It will take a few hours for the coat to fully harden but the picture gives some idea of how much it brightens the brickwork.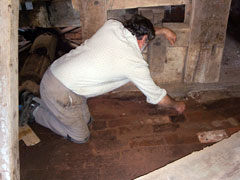 Max took to his hands and knees to re-lay a section of the brick floor that had subsided.

This particular section was hidden by a flour bin when he worked on the rest of the floor, but the bin was moved during work to repair the hurst.

Once he had finished that job he took over a paintbrush from John. Most of us will probably take a turn at applying limewash as it is not the easiest of finished to apply, not at all like modern paint.

Colin and Richard re-positioned the sack hoist chain to bring it more in line with the hatches and replaced the synthetic control rope with traditional sisal. It makes no difference to the way it works but blue plastic rope just didn't look right.

With a hillclimb meeting coming up this weekend they also put up a couple of guard ropes to indicate areas where we don't want visitors to go.

With the probability that we will be running the waterwheel this weekend we did a couple of trial runs. One before and one after we had adjusted the mesh of the pit gear. It was definitely running quieter the second time.

Derek arrived back from holiday with renewed energy, using a strimmer to cut back the verges and having a thorough tidy up.

As you can probably see from the picture, all the laurels have enjoyed the warm, damp(?) summer and are beginning to form a hedge.

All in all it was a satisfying day, nothing dramatic, but good steady progress in very pleasant early autumn weather. 

Go to the next Watermill Blog entry

Go to the previous Watermill Blog entry

Learn how to Support Us

Return to our Home Page