Water Mill Blog - Mill Pool Progress
18th December 2007
We arrived at Shelsley Water Mill this morning to find that the local contractor was working on the mill pool. A large machine was moving soil to backfill the ground behind the wall of the mill dam and levelling the surroundings.

We may well have a full mill pool for Christmas. This will mean silt free water coming down the mill stream, making dredging works worth doing at last. We will probably wait until the weather warms up a bit before we start paddling though..
In fact the weather today was slightly warmer than last week, actually above freezing. Martyn has provided an old propane space heater that makes tea breaks more comfortable.

The addition of a bit of sheet metal meant that we could have our mince pies hot.

Thanks go to Drene for the mince pies, they were very good. Colin only had an empty box to take home.

Today's team consisted of Martyn, Colin, John, Kim, Headley and Richard and we set about three tasks with a will.

Kim and Richard worked in the hay loft, removing a few more rotten floorboards and replacing decayed joists. They removed one pair of adjacent joists and dropped them onto the floor below where they broke in half. We had been walking over that bit of floor for weeks without realising  how weak it was.

Four joists were replaced and a couple of new boards laid before the light started to fade.

Martyn, Colin and Headley worked inside the mill, taking exact measurements for the timber that is needed to repair the hurst. The repair has to match exactly to what was there before and it will be much easier if we can get the wood merchant to cut the oak to the right size for us.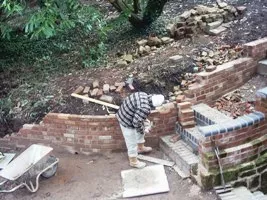 The order for the oak has been placed and progress was made towards removing the rotten timber.

John decided that it was warm enough to do some bricklaying again.

The retaining wall at the bottom of the steps is taking shape well as you can see.

Once John has finished that wall there is another retaining wall needed at the other side of the water mill and a lot of brickwork repair needed at various spots around the stable barn.

Go to the next entry by clicking here.

Go to the previous Water Mill Blog entry

Learn how to Support Us

Return to our Home Page