Christmas Break - Watermill Blog
8th December 2009
We had our last session before the Christmas break today. Most of our time was spent tidying up and generally putting things in some degree of order ready for the New Year's Day social gathering.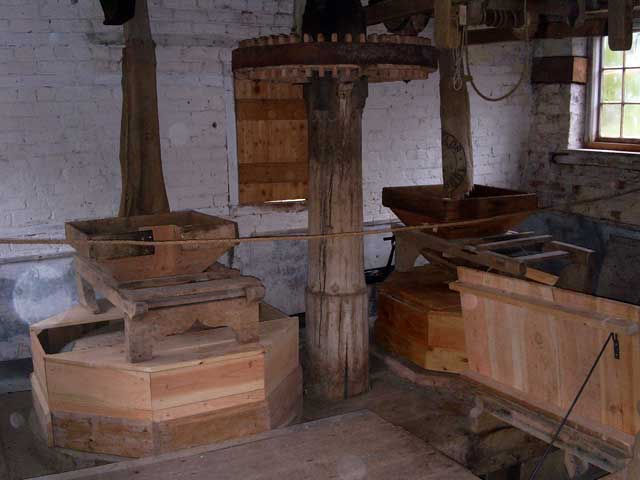 Inside the mill we put both tuns in place over the millstones and moved the winnower into a corner. A quick whip round with a broom and the place looks almost workmanlike.
The bags of wheat that we had stored in the mill have been removed to domestic storage to keep them away from invading rodents until we are ready to grind next year.
Downstairs we had to clear soil from the gear pit that seemed to have been excavated by rats. There has been no sign of rats in the mill until recently but we have now seen several out and about and very cheeky. One specimen proved to be pretty fast when chased with a spade.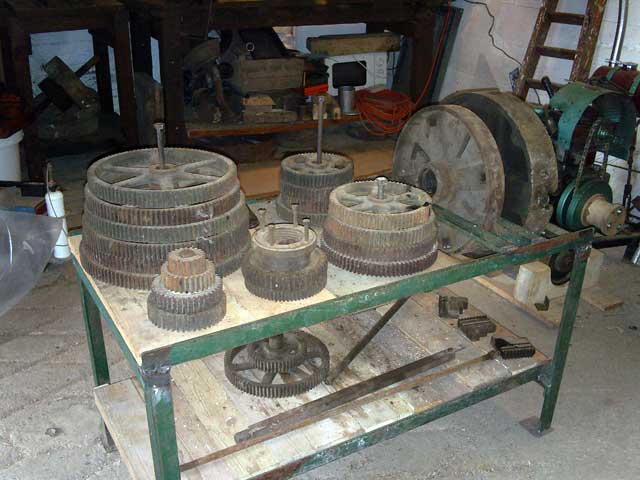 Inside the stable it was just a case of putting things straight and tidying away tools. One of November's projects that seems to have been overlooked in our blog was the construction of a table to store all the accessories that came with the big Wilson lathe. This includes two chucks, a faceplate and a collection of back gears. All this means the table is quite substantial.
The day's session was very relaxed and we spent a fair amount of time discussing Richard's stone dressing  experience last week while sitting round the gas heater. It made for a good excuse.
We are not going to have another session until 29th December when we will have a thourough clean-up and inspection ahead of the New Year's Day social gathering. Barring emergencies we will not work during January so watch this space to find out when we are going to resume working parties in February.
Go to the entry before this Christmas Break story

Go to the next watermill blog entry

Learn how to Support Us

Return to our Home Page