Tun Building - Watermill Blog
21st April 2009
A beautiful Spring morning saw the team gather at the mill today. Some of the members had clear objectives for the day but there was a period of discussion while jobs were identified and allocated.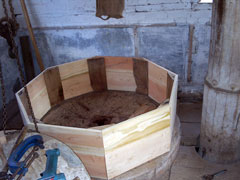 The old oak knees make a sharp contrast to the fresh pine, but they are in fair condition and form a major part of the construction.
The picture shows the sides, each made up of two boards, fixed in place. After the experience of building the upstream tun, this one has gone together quicker and better, so far at any rate.
Jonathan and Bob both returned to regular tasks, Jonathan bricklaying and Bob limewashing.
Over the Easter weekend Bob had hosted a family visit to the mill and reported that the drive belt to the chaff cutter would not stay in place. A quick examination revealed that the whole chaff cutter had travelled a couple of inches down the stable, causing the belt to be mis-aligned.
Martyn, Colin and Kim spent some time getting the machine back into  position and then testing it to make sure the problem was resolved. They then bolted the legs to the floor so that it  won't try and run away any more.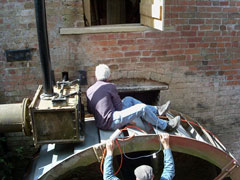 When the wheel is running a lot of spray enters the mill through the opening above the shaft so it was decided to fix a curtain, actually an old sack, at the top of the opening.
As you can see, the wheel makes a handy work platform and the trio re fixed the timber infill and nailed the sack to the bottom.
Typically, when we turned the water on to see if the curtain had the desired effect the spray from the sluice box went the other way, away from the mill.
The Spring weather is having a noticeable effect on the plant life around the mill and Tony used a petrol strimmer to keep the grass on the bank under control. The team seemed to enjoy the sunshine, even Bob and the tun building pair who basked gently at break time to make up for working indoors.
Go to the next Watermill Blog entry

Go to the previous entry before this tun building story

Learn how to Support Us

Return to our Home Page