High and Low - Watermill Blog
23rd April 2009
St George's Day was just another day at Shelsley Watermill, with the team working on jobs both high and low.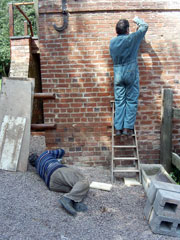 Pointing was a major activity today as Max, Dave and John all worked on the outside of the stable block. As you can see the problem of access to the work area was solved in a variety of ways.
Dick took advantage of the weather to strim and mow the grass on the bank to the north of the mill. The grass here has taken well so will need  regular maintenance through the summer.
While he was mowing the grass Dick noticed a bird flying in and out of a crevice in that side of the mill and closer inspection revealed a nest. He didn't get a good enough look to be able to identify the bird but we do know that the Grey Wagtails have a nest in the wall of the culvert, a few feet  upstream from the entrance. The jackdaws also seem to be nesting in the President's Barn again.
Richard spent most of his day inside the mill sawing timber for the deck of the downstream tun. This is all new timber as the original deck had virtually disappeared, allowing the horse to fall in onto the stones.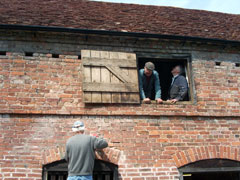 Martyn and Colin started the day tidying up in the hay-loft, and followed up by fitting a pair of glass windows in the south facing hatch opening.
By mounting these so that they open inwards the external appearance is maintained but the hay-loft is made a little less draughty.
The tidy up and the draught reduction are  because the MAC is going to use this space as a signing on/ rest area for the marshals during hill climb events.
With his usual stoicism, Bob ignored all the activity above and around him and spent the day applying limewash to more of the stable ceiling and walls, another one working high and low. He emerged into the sunshine occasionally  to make sure we were all still there and then went back to work. 
Go to the next Watermill Blog entry

Go to the previous entry before this high and low story

Learn how to Support Us

Return to our Home Page