Working Waterwheel
21st August 2007`
The highlight of the day was the working waterwheel, but there was more to the day than that. As ever John spent the day bricklaying and finished the wall around the hay-loft steps with a last course of bricks and flat coping bricks.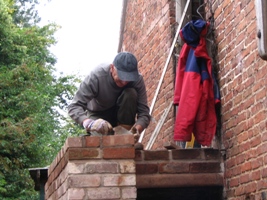 We had a welcome guest today, our Australian supporter Doug Hawke, who cleaned some bricks for John and who took a lot of photos and video. All of today's pictures are by Doug and many thanks to him for his efforts.
The rest of the team consisted of Martyn, Colin, Headley and Richard. They worked on the waterwheel and had the last three buckets in place by lunchtime but not fully bolted down. We even paused so that Doug could record the last bucket.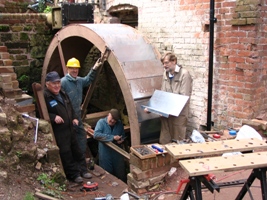 After lunch it was only a matter of drilling the last few holes and bolting the buckets to the sole plates. The Court House team, now only Kevin, dug through some of the mud in the pool so that we would have water available at the penstock. He also put the plug back in to raise the water level. We then had to wait while the water level crept up to the penstock. About three o'clock in the afternoon we seemed to have enough water in the pool so we all made our way to vantage points around the waterwheel. What happened next was recorded by Doug so that you can watch it by clicking on the screen below.
It has taken a long time and a great deal of effort, but it all seemed worthwhile today. The noise was a big surprise, just great.

Go to the next entry by clicking here.

Seen the working waterwheel? Click here to see the previous article.

Click here to see how you can support us.

Leave the Shelsey Mill Blog and return Home.