Taking Scaffolding Down
29th May 2007
We took the scaffolding down today. This can be written down in much less time than it took us to do. The team for the day consisted of Martyn, Colin, Richard and Derek.
Derek arrived to find that his bonfire had grown considerably while he wasn't looking, but he managed to find enough dry material to get it going. After the wet weekend everything needed drying out before it would burn, but burn it did even if it was a bit smoky now and again.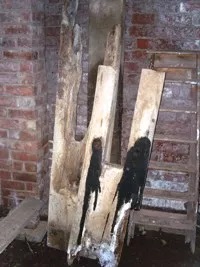 Martyn started the day by doing the last bit of painting on the new window frame while Colin and Richard checked out the work that must be done to part of the timber hurst inside the mill. Considering that it is probably three hundred years old the timbers are in good condition but there is some rotten timber in one or two places that will have to be replaced. We think we have worked out a sequence of propping and rebuilding that will let us replace the necessary woodwork without bringing the millstones down on our heads. The picture shows the worst piece of rotten timber, already patched a least once.
Once the window frame was finished to Martyn's satisfaction he, Colin and Richard set about taking the scaffolding down. Richard suffers from vertigo so kept his feet firmly on the ground while Martyn did the high work. Between the three of us we dismantled the decks and lowered the boards and poles to the ground. There were a number of pauses while we decided the best order in which to unclamp joints and we must have come to the right decisions because we managed the whole job without any damage to persons or property. At the end of the day we had got the entire scaffolding down and the poles moved round to the other side of the mill ready to be erected again so that we can fit the second window frame that we have. We can now see the full effect of the new window and the new arch above the waterwheel, even if it is slightly obscured by the smoke from Derek's bonfire!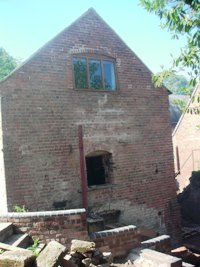 We are still waiting for a delivery of the galvanised steel we need to make the rest of the plates for the waterwheel, so no progress in that direction. However, once the steel arrives the completion of the waterwheel will be much closer and it is altogether possible that we might be able to turn the wheel by water power by the end of this summer.
The webmaster is taking a short break so this will be the only diary entry for this week. Hopefully normal service will be resumed next week.

Go to the next entry by clicking here.

Convinced we took the scaffolding down? Click here to see the previous article.

Leave the Shelsey Mill Blog and return Home.