Making Wooden Wedges
24th May 2007
The manufacture of a number of wooden wedges was the highlight of the day for a small team. The steel that we need to make more buckets and plates for the waterwheel hasn't been delivered, so no progress is possible in that direction. Several members are away or have domestic commitments as well so this Thursday was very quiet.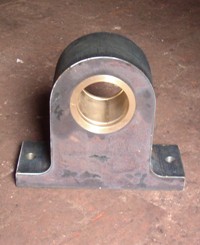 Colin and Richard arrived at the usual time to find two MAC members preparing to try out a route for the next Classic Run so the day started with a bit of a chat. After they had left the two of us decided to take a closer look at the new bearing and check a couple of measurements. This entailed lifting it out of its tote box, so we took the opportunity of taking another photo. It was a quiet day!
We are now pretty sure that it will fit, so it just needs to be drilled and tapped for a greaser to be fitted and we can get on with mounting it.
There wasn't much else that could be done by just two of us, so we had another cup of coffee and headed back to our respective homes. Richard took some off-cuts of hardwood, oak and idigbo, to make a start on making wooden wedges to secure the waterwheel and the pit gear to the main shaft.
These wheels are held on the shaft by many pairs of wedges, giving a secure fixing and scope for centring the wheels on the shaft. Each set consists of a pair of wooden wedges separated by a steel shim. Time and neglect has taken its toll of these pieces and an unknown number have dropped out and been lost. The consequences of the waterwheel or the pit gear coming loose on the shaft are too awful to risk so we are going to err on the side of caution and replace the corroded pairs with more new ones than we take out.
Adam, our carpenter member, has lent us a table top band-saw and Richard used this for a couple of hours this afternoon to chop up the hardwood off-cuts into pairs of wedges. We now have a plastic bag full of nicely tapering timber and Richard still has the nine and a half fingers that he started the day with. Hopefully there will be a few more team members around after the Bank Holiday to pass comment on the workmanship.

Go to the next entry by clicking here.

Read about wedges? Click here to see the previous article.

Leave the Shelsey Mill Blog and return Home.