New Bearings - Watermill Blog
20th November 2008
The new bearings for the PTO shaft were completed this week and Colin brought them with him this morning.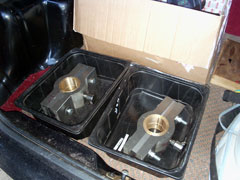 These have been specially made for us by Jeremy Brewster of Brewster Mudie Ltd and they are a fine job.

Mr Brewster gets a big thank you from the Society for making these which are a slight diversification from his normal vintage automobile engineering business.

Actually fitting the new bearings will take a little while as we need to produce timber bearers to support the bearings in the right place in the pit either side of the universal joint. All the measurements have been taken and suitable fasteners obtained so we just need some dry weather for a couple of working days.

The PTO shaft and pit will be covered by gratings, some of which are complete and in place.

Headley has been making these up at home and today he brought a grating to fit the light well on the other side of the mill.

He and Max fixed supports so that the grating lies flush with the brickwork. We will also make a removable wooden cover to keep the rain out in place of the sheet of corrugated iron we are using at the moment.

The wooden cover is a job for the carpenters on the team but Richard and Jim are both working on the copy tun. This is making excellent progress and is now partially decked.

Completion of the tun and its superstructure will get the mill to the point of being able to grind corn. No pressure on the carpenters, but it would be something to shout about.

Bob tried very hard to avoid limewash but failed.

John and Jonathan laid coping bricks. John worked his way up the steps past the waterwheel, getting about half way up by close of play.

Jonathan settled down to finish the wall outside the lower door of the mill. A working life spent sitting behind a desk is not easily forgotten.

With the light beginning to fade we called it a day. Colin took the new bearings home with him for safe-keeping until we can bolt them down.

Go to the next item after this new bearings entry

Go to the previous Watermill Blog entry

Learn how to Support Us

Return to our Home Page