Bearing - Watermill Blog
25th November 2008
Colin, John, Bob, Jim, Jonathan and Richard met this morning at Shelsley Watermill and quickly got on with some work. It was far too cold to hang around chatting!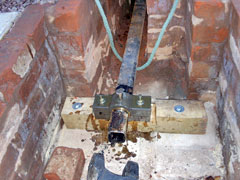 It was cold but crisply dry and Colin used his time fixing the first of the new bearings in place beside the PTO universal joint.

This bearing has to resist any tendency for the shaft to move towards the mill so the timber bearer is bolted down.

Its fellow bearer the other side of the universal joint will be left to float to allow for the PTO shaft to be moved in and out of gear. This will also allow a bit of give in the universals joint.

Bob got on with the job of applying limewash to the ceiling of the stable. This is not the most pleasant of jobs but Bob is getting on with it with a minimum of complaint. He deserves a medal for devotion to this job.

John and Jonathan made the most of the dry weather, both of them laying coping bricks to finish walls.

John worked his way up the steps past the waterwheel, making good progress towards the top.

Jonathan just managed to complete his wall by the time we packed up for the day. This curved wall is all his work so we will know who to blame if it falls down.

Jim and Richard worked together on the decking of the copy tun. Once that was finished they checked the original wooden horse and its supports. The old horse, the framework that supports the grain hopper, shoe and the controls, is in good generally good condition and we are able to re-use it.

One wooden roller has been attacked by woodworm but is still sound so we are leaving it as it is. Replacing it would mean dismantling the horse with the risk of doing more damage.

As well as supporting the grain hopper the horse also acts as a location for the tip of the damsel.

The damsel itself is a fairly loose fit on top of the stone spindle and turns with the stone to rattle the grain shoe, feeding grain from the hopper into the stones.

With all this in place Richard and Jim moved on to make a start on a copy of the grain hopper. Examination of the worm-eaten original revealed that the top was made in oak and has survived almost unscathed so we are going to re-use that bit and just replace the softwood parts.

If the weather is kind and we don't hit any more unexpected problems we may just have a working watermill before the end of the year, capable of grinding grain and chopping chaff. It was with that thought in mind that we went home content.

Go to the next entry after this bearing story

Go to the previous Watermill Blog entry

Learn how to Support Us

Return to our Home Page