Hand Rails - Watermill Blog
18th November 2008
The timber to construct the hand rails arrived this morning with Martyn so the agenda for the day was fixed.

Not everyone got involved immediately. Richard did some more work on the flour chute inside the watermill but that job came to a standstill for lack of another pair of hands.

Dick painted the tool storage racks he has built and Bob applied another coat of limewash to the inside walls of the stable barn.

Once the ceiling is limewashed we will be able to fix up the chaff cutter for display.

John took advantage of the drier weather and made some good progress laying the new coping bricks. They finish off the walls very well.

The rest of the team consisted of Martyn, Colin, Kim and Finton. Between them they managed to fix four posts to the hay loft steps.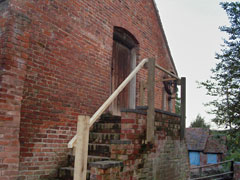 Three of the posts are bolted to the brickwork with two bolts each and the last one has bolts through the wall beside the door.

We had been hoping to re-use the the original post in this position but it was too rotten to be safe but we did use the original bolts.

By the time the posts were being fixed in place Richard had joined the quartet so it was a case of many hands making light work.

It also meant plenty of banter and chat so it is surprising that by the close of play we had added the top hand rails. The weather was kind to us today but we were all looking forward to being inside in the warm.

Go to the next entry after this hand rails item

Go to the previous Watermill Blog entry

Learn how to Support Us

Return to our Home Page