An Old Millstone
10th July 2007
A millstone emerged from the weeds and undergrowth this afternoon. Derek was continuing the never ending job of clearing undergrowth, old farm machinery and general rubbish from around the mill when he came across a millstone abandoned and nearly buried. Spades and levers were put to work and after a fair amount of puffing and grunting we got it balanced upright. It was too late in the day to do more than take a quick look but at the least it will make a suitable ornament outside the mill door.
Earlier in the day it looked as though we were going to be a small team with only Martyn, John and Richard on site, Headley and Colin away making parts for the waterwheel. We were joined by Dave and Derek and also by Dave's son Alistair (I hope that's right) so by lunchtime the mill was a hive of activity.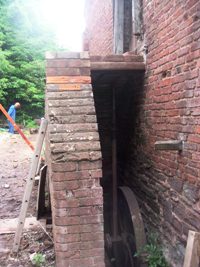 John laid bricks again but these were specially shaped bricks this time. The buttress to the hay-loft steps was built with chamfered bricks and a few of these were not re-usable. After experimenting with a hammer and chisel John abandoned complete authenticity and used a modern masonry cutter to chamfer the necessary replacements. You can tell which ones they are in the photo by the colour. You can also make out the new beam between the new bricks and the barn wall. All very tidy and secure. We took out the acroprop just after the picture was taken and it all stood up okay.
Martyn, Dave and Alistair did the finishing off on the guttering and down pipe. This was easier to do in dry weather than it had been last week in the rain but still involved a great deal of climbing up and down ladders.
During the morning we had a visit from Tim Booth from the Midland Mills Group who cast a friendly eye over our progress to date. He made a number of useful observations about work done and had advice about the many things we still need to do. Unlike some of the people who make suggestions, we listen to what Tim has to say as he really has been there and done that when it comes to restoring watermills. It's a shame that he had left before Derek found the old millstone because he would probably been able to tell us more about it.
Richard enjoyed a quiet day cleaning bricks. Ho hum.

Click here to see how you can support us.

Go to the next entry by clicking here.

Read about the millstone? Click here to see the previous article.

Leave the Shelsey Mill Blog and return Home.