More Rain!
5th July 2007
This Thursday privided even more rain. The morning was mostly dry with a couple of short showers, but the rain set in in earnest after lunch.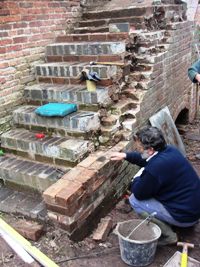 The hay-loft steps are now secure as we have replaced the rotten timber with an oak-faced steel girder. John, Max and Richard spent most of the morning setting the steel in place and making it secure. Max then began rebuilding the brickwork at the side of the steps while John moved to the steps beside the waterwheel where he has also been building a wall. Richard cleaned a few bricks for Max and did a bit of general labouring. Nothing too strenuous of course, we can't exhaust the webmaster. As the rain became continuous the bricklaying faltered to a stop and the workers became spectators from various sheltered spots.
Martyn, Colin and Headley worked on the guttering, getting the last few brackets in place and lifting the guttering into place. This occupied most of the morning and meant that the fixing of the down-pipe and the levelling of the guttering could be done after lunch.
Martyn was determined to finish the job and wouldn't let a little bit of rain stop the work. After all, he could easily see if he had got the right fall on the guttering with rain dripping off the roof. The down-pipe was slightly trickier, though, as it meant working above the tailrace with a length of pipe being supported from below. The down-pipe is connected to the guttering by a nearly horizontal section and the first fitting got this bit wrong so that the pipe held quite a lot of water. Martyn happily corrected the slope, but didn't warn Colin who was supporting the bottom of the down-pipe. The picture says it all!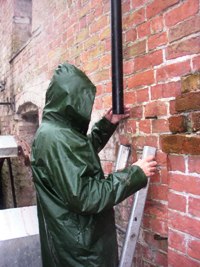 Go to the next entry by clicking here.

Want no more rain? Click here to see the previous article.

Leave the Shelsey Mill Blog and return Home.