Limewashing - Watermill Blog
21st October 2008
Limewashing, such a lovely task that even Martyn had a go. But not for very long.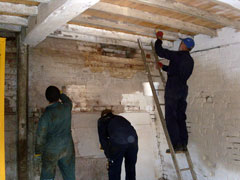 We are waiting on a number of parts being made for the PTO shaft and line shaft repairs so Martyn, Colin and Kim found themselves at a loose end this morning.

After a fairly short stint with the brushes they decided that it was time to tackle the restoration of the root shredder, a task they felt much more able to undertake. Those amongst the team who have limewashed more than half a wall can sympathise, it really is peculiar stuff to paint on.

Bob and John had no alternative jobs to take them away from the paintbrushes and spent most of the day getting the first bay in the stable to look almost done. The ceiling will need another coat on Thursday but we can think about moving the bench that way soon.

Dick rigged a movable work like where it could be used on the pillar drill or the band saw. It will be very useful when we have found a spare bulb for it.

Jonathan did some more work on the wall plate repair and then turned his attention to the retaining wall above the culvert outlet. He found some largish slabs of tufa and constructed a stepped end piece blending the brickwork into the stonework. Neat.

Richard made a start on repairing the heavy wooden plinth that supports the tun around the upstream pair of millstones.

He got as far as shaping one segment to fit the profile of the stones but managed to wear out the last decent band saw blade we have.

The picture shows the new segment on top of one of the originals. Only two of the original segments need to be replaced, having succumbed to a combination of dry rot and woodworm. A supply of sharp band saw blades is on order so work shouldn't be held up for long. It's either woodwork or limewashing duties so look out for sawdust and shavings.

Go to the next Watermill Blog entry

Go to the previous Watermill Blog entry

Learn how to Support Us

Return to our Home Page