Lathe - Watermill Blog
19th February 2009
Most of the team went to Shrewsbury today to help collect a lathe. We had been offered this machine in response to our general appeal for old belt driven machinery.
Only Max, Richard and Jonathan stayed at the mill, working on the little cake crusher and, in Jonathan's case, doing some pointing of the old brickwork.
Not long after lunch the rest of the team arrived, Colin and John in the MAC pick-up with the trailer and Dave, Bob and Headley following on. The lathe had been lifted onto the trailer with a forklift truck.
Some of the  smaller components can be lifted by one man and were wheeled round to the stable in a wheelbarrow.
We were still puzzling over how to get the main component itself off the trailer when the answer drove past going down the hill. A very large JCB forklift. It turned out to be working up the hill  in the charge of our very good supporter, John Stinton.
John Stinton has supported the mill restoration from the start with advice, encouragement and practical help and we are very grateful for all he has done for us but today was pretty special.
He drove  the giant machine into the yard, surveyed the problem and then lifted the lathe off the trailer and carried it  round to the path above the stable. The pictures tell the story.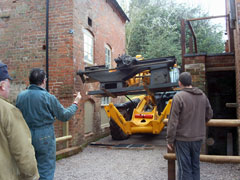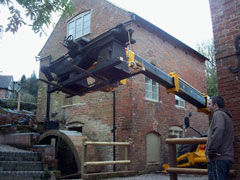 As you can see the load only just went through the gap between the mill and the stable. The machine was lowered carefully onto scaffold planks (yes, borrowed from Mr Stinton) laid on the gravel. With rollers underneath it was no problem sliding it down towards the stable door, in fact we were more worried about stopping it from rolling too far.
More work with timber and rollers saw it spun through 90 degrees and slid in through the stable door. Another 90 degree turn and it was in the space cleared for it.
We need to do some work on the corner of the stable that will be the final home of the lathe so it will stay were it is for a while. For now we made a unanimous decision to call it a day.
Go to the next entry after this lathe story

Go to the previous Watermill Blog entry

Learn how to Support Us

Return to our Home Page