High and Low - Watermill Blog
10th September 2009

The first of the weeks highs was the arrival of a length of belting for the Wilson lathe. This was supplied via MAC member Keith Squires, who refused to take any payment for it. Thank you Keith.
It didn't take long to get a belt made up to run between the lay-shaft and the lathe and our attention immediately turned to the little Dennis engine that we intend to use to drive the set up.
Kim had brought his portable welding kit with him, together with some lengths of pipe suitable for making up and exhaust system.
While most of Tuesday's team cleaned up more parts of the Bamford rolling mill, Kim fabricated a new exhaust for the Dennis aided mostly by Jim but also by anyone who had a free (gloved) hand when needed.
The finished exhaust pipe was bolted in place complete with the original lencer, now packed with modern material. The air filter had been thoroughly cleaned and the oil bath refilled by Dave last week so we begged some petrol off John N and gave it a try.
This turned out to be the low point of the week. Kim swung the starting handle until he was too tired to continue. Not a peep from the engine. We checked the plug. No problem there, so John N had a go. Still nothing. Richard took the little Amal carburetter apart and cleaned it out. No obvious problem there, either. Anybody with any energy left had a go at swinging the starting handle. Still nothing. We took a break for lunch.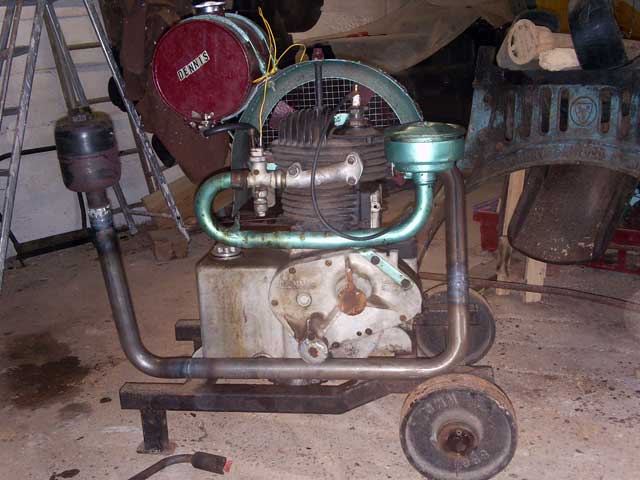 After lunch we tried removing the air filter and the silencer. The effect was dramatic and very noisy as theengine started easily. With our ears ringing we replaced the silencer and tried again.
Again the engine started easily and was now much quieter.. The problem seems to be the air filter. We called Dave a lot of rude names in his absence, but on Thursday he pointed out that there is a filling mark inside the filter housing.
Everybody was cheered up when he couldn't start the engine either. This time it was a simple lack of petrol!
Dick is making a moveable frame for the engine so that we can take the tension off the drive belt to disengage the engine from the lathe, a job he started last week and made more progress with on this Thursday. Thursday also saw the team resort to using the MAC's pressure washer to shift grime from the main frame of the rolling mill.
Go to the next Watermill Blog entry

Go to the previous entry before this high and low story

Learn how to Support Us

Return to our Home Page

Your first paragraph ...