Painting - Watermill Blog
13th November 2008
Painting was the main activity today at Shelsley Watermill. The weather was too wet to do much outside.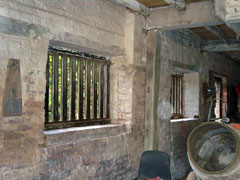 The only team member to brave the rain was Derek who arrived determined to prune the laurel bushes and proceeded to do so. He had prepared for the weather but still got quite wet. Unsurprisingly, he left for home early, happy that he had done the job he came to do.

Max, Bob and John stayed in the stable, brushes in hands, applying limewash to the brickwork around the windows.

Even cleaning the walls down brightened things up quite a lot and a single coat of limewash improved things even more.

This section will probably need a second coat and the ceiling is still to do but it has taken a step towards completion.

Jonathan also did some painting, but with Hammerite. The gratings that Headley brought on Tuesday had been already been given a coat of primer.

Now finished in glossy black they look good and solid. Nobody has dared to stand on Jonathan's fresh paint yet but we all jumped up and down on them before they were painted and they feel strong.

Richard and Martyn worked together in the mill making and fitting a replacement flour chute. This is yet another component that was almost entirely consumed by woodworm.

The replacement is based on the remains that we found, same material, same thickness and so on. The shape of the ends is our best guess of how it would have been.

The whole thing is fitted through a hole in the horizontal beam and is made to be an exact fit so that it holds together without any fasteners.

The second pair of hands and eyes was almost essential as the fitting involved being in two places at once, up by the millstones and downstairs on the machinery floor.

The wet weather seems to dampen spirits even more than the cold and none of us were late leaving for home.

Go to the next story after this painting entry

Go to the previous Watermill Blog entry

Learn how to Support Us

Return to our Home Page