Grain Shoe - Watermill Blog
16th December 2008
Two new parts to write about today, the copy grain shoe and another section of grid work.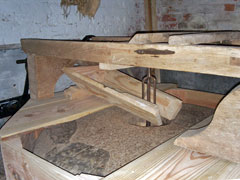 Jim and Richard have almost finished making the copy of the original grain shoe.

The picture shows it being tried for fit in place above the stones.

They both found this item quite a challenge to copy as almost every saw cut is made at an angle. Much thought went into each cut as it would have been very easy to end up with two left hand pieces.

Headley had been busy at home and arrived with another section of grid complete and ready for painting. It was sprayed with primer and then given a finish coat in the morning.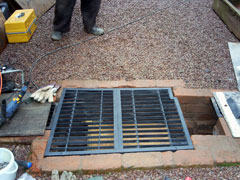 While the paint was drying Headley and John fixed the supports for this section to the sides of the PTO pit above the universal joint.

Once the paint was dry the section was dropped into place, leaving just one small section still to make.

Martyn, Colin and Kim continued the cleaning up of the root-shredder parts. Most of the work is being done with wire brushes mounted on an angle grinder which removes the surface rust and leaves the surface ready for a coat of primer.

Kim also spent the later part of the day doing a bit of tidying up. This is going to be the major activity on Thursday as this will be the last opportunity before Christmas to get the mill ready for viewing at the MAC social event on New Year's Day.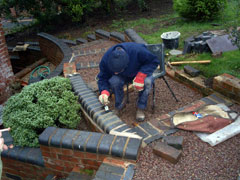 Jonathan took advantage of the milder weather to set a few more coping bricks in place.

In the picture he is cleaning each coping brick to get rid of any excess mortar from the surface, a detail he learnt from John.

This picture was taken towards the end of the day and the light was fading fast. It is nice to think that we are very close to the shortest day of the year and sunset will soon be getting a bit later each day.

Today it was almost full dark by the time the last of the team left for home at 4:20 p.m.

Go to the next entry after this grain shoe story

Go to the previous Watermill Blog entry

Learn how to Support Us

Return to our Home Page