Cold Working - Watermill Blog
8th January 2009
Cold working could well refer to forming shapes in metal without heating it first and is a term well known to engineers. In the case of this watermill blog entry though, cold working describes how we all felt today.

Although nothing like as cold as Tuesday there was a damp feel to the air and the team tackled jobs that would help keep them warm.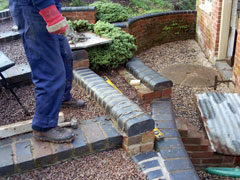 Jonathan was eager to finish the coping bricks near the front door of the mill.

John helped by mixing mortar for him and by making encouraging noises.

The picture was taken before he had quite finished to catch the best light.

Colin, Martyn and Richard all got to work with power tools, cleaning rust and  loose paint from various parts of the root shredder.

Good progress was made with some of the larger parts and we should be able to begin re-assembly before too long. Then we will be able to begin the same task with a little belt driven cake crusher, the third member of the animal feed processing trio.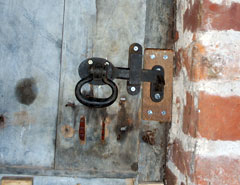 Headley arrived with some brackets part made to carry the handrail up the steps to the hay-loft. Once he had checked dimensions and angles he turned his hand to a quite different job.

We have had a latch for the hay-loft door for some time but have never got around to fitting it. Headley took the job on and we can now keep the door shut without having to wedge it with a length of wood.

The cold working got to us all with John the first to leave and Jonathan left to lock up when the other four left at about half past three. At least we did make some useful progress today.

Go to the next entry after this cold working story

Go to the previous Watermill Blog entry

Learn how to Support Us

Return to our Home Page