Gear Casting - Watermill Blog
18th February 2010
We got a first sight today of the gear casting for the bevel gear needed to restore the external drive to one pair of stones. This was the first working day of the year and there was a good turnout of volunteers.
Before Christmas we had agreed that we would not meet until February, a descision that proved to be a good one in the light of the weather in January.As it turned out we picked the wrong day to return, but the day started well, if a bit cold.
The team gathered in the paddock and wished each other a belated "Happy New Year". Before long we had ten volunteers including John N who had a newly cast bevel gear in the boot of his car.
The gear is still "as cast" and needs to be bored to the correct size for its shaft, but it looks pretty good.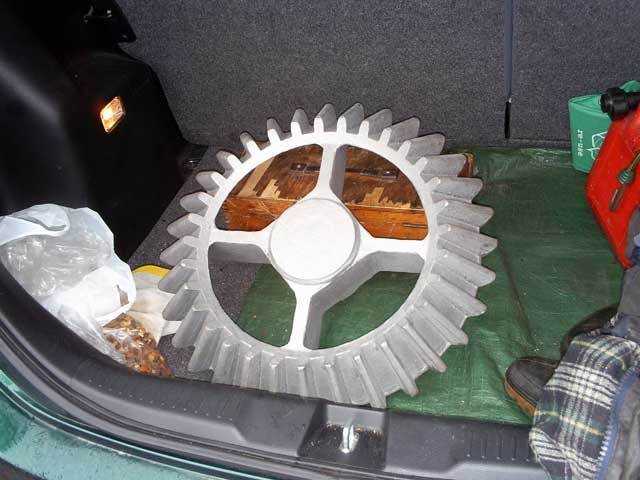 We are indebted to Purbright Castings Ltd for producing this casting for us in return for publicising their company.
We are more than happy to acknowledge  them and we will also mount a plaque by the gear when it is installed, recording their donation.
After we had admired the gear casting we set to measuring up for the necessary shafting to install the gear. We have a suitable pair of bearing blocks so we need to find a seven foot length of shaft.<br>
One piece of news from the winter break was that Colin is now a grandfather, as our Australian following has  increased by one. Congratulations all round.
Most of the morning was occupied with making a survey of the mill and its surroundings to see if there was any winter damage.
The weather doesn't seem to have caused any problems but it is clear that we have a problem with rats. There are teeth marks on the leather hinges to the hatches and in a couple of places on the woodwork.
As a result we have had a good clean up, removing quite a bit of old wood that was being kept in case in came in useful. Several volunteers have wood-burning stoves, so scrap wood always finds a home.
By lunchtime it was starting to snow, yet again, and enthusiasm was waning fast so we called it a day. 
Go to the entry before this gear casting story

Go to the next watermill blog entry

Learn how to Support Us

Return to our Home Page