Working Chaff Cutter - Watermill Blog
2nd December 2008
As predicted for the last few weeks we now have a working chaff cutter.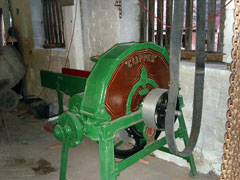 It was damp with temperatures just above freezing point when Martyn, Colin, John, Kim and Richard met this morning, and rain was expected.

Looking to find jobs that would keep us under cover, we decided to move the chaff cutter to its display location.

It took all five of us to drag it out of the corner that has been its home since Dick finished the restoration. It is mostly cast iron and steel with a few wooden parts so quite weighty.

We already had the belt that used to drive the root shredder and a suitable pulley for the line-shaft so we just needed to make a hole in the hay-loft floor for the belt to pass through and mount everything.

It did take most of the day to get everything right but it was worth the effort. As daylight faded we watched the chaff cutter turn under water power. We don't have any straw so we fed newspaper onto the conveyor to try it out.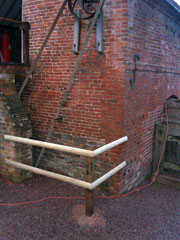 We now have lots of small pieces of newspaper.

Other jobs got tackled as well today. Richard cut some more parts for the grain hopper and also helped Kim later in the day.

John dug a post-hole and set in a post to make the corner of a fence to stop visitors from wandering too close to the outside line-shaft belt.

Kim cut half round fence rails to length and, with a bit of help from Richard, fixed them to the post and the brickwork. The light was fading fast by this time and it felt even colder than it was so we packed up for the day.

Most of today's team aren't able to come on Thursday and we know of some Thursday regulars who also can't make it this week so we decided to tell everyone not to come this Thursday and return to normal next week.

Go to the next entry after this Chaff Cutter story

Go to the previous Watermill Blog entry

Learn how to Support Us

Return to our Home Page