Willson Lathe - Watermill Blog
16th - 25th June 2009
The Willson lathe of the title is really a Smith, Baker & Willson lathe that was made some time before 1914.  Regular readers will recall that we collected this machine from Shrewsbury earlier this year and moved it into the stable  workshop where it has rested under dust sheets until this week.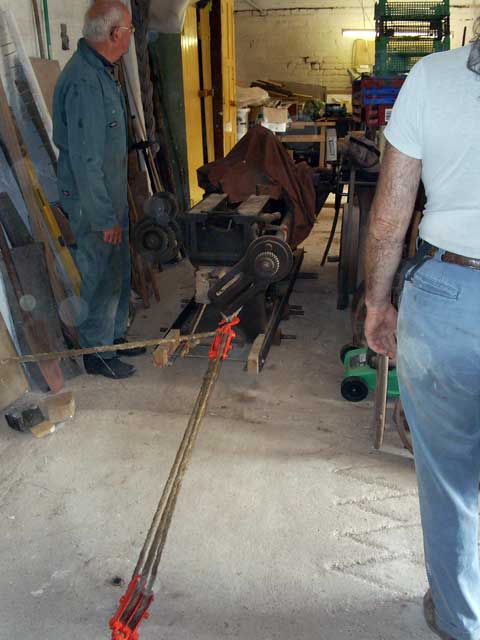 With the whole stable now clean and freshly lime-washed it was time to move the lathe towards its final destination.
A selection of pry bars, some rollers and a block and tackle set-up came into play as we persuaded the lathe towards the back of the stable.
We used chain hoist to lift the headstock assembly into place once we had got the bed of the machine under a  suitable joist.
The same joist will be handy for lifting the chucks when they need to be changed.
The picture shows the Willson lathe in transit along the length of the stable. The block and tackle meant that one person could easily move the weight while the rest of us watched to make sure it didn't hit anything.
Other work in the last two weeks has included the replacement of the downstream stone spindle after some remedial work and the ongoing work to re-create the grain hopper for the same stones.
The grain hopper is now complete, but there is more work to be done on the stone spindle before we can replace the runner stone and give it a try.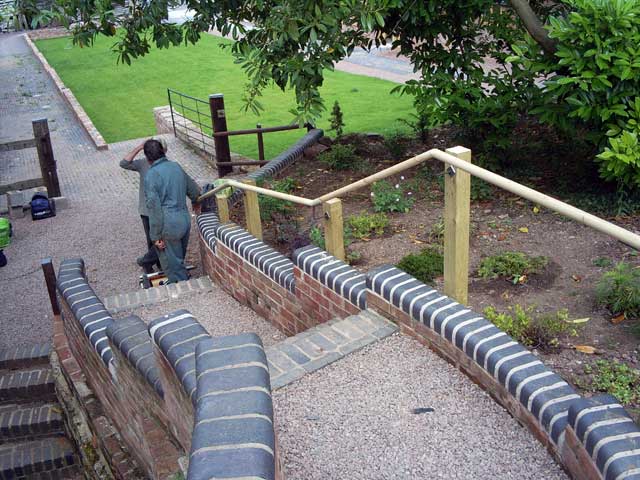 Outside the mill the handrail for the steps has reached past half way.
This is taking quite a time because each bracket is different and needs to be individually shaped and welded to fit.
This job has been done by Headley, Kim and Martyn and Richard followed up by cutting and fitting the wooden handrail.
While all this has been going on around him, Bob has been quietly cleaning bits of the vintage crop sprayer. The body and most of the fittings are made of brass and clean up to a bright finish. Everything seems to be in working order so we should have a useful as well as ornamental piece of equipment when it is finished.
Finally, the team members were all saddened to learn of the sudden death of Mark Joseland, Archivist and former Secretary to the MAC. The Society would like to extend our deep sympathies to his widow, Avril.
Go to the next Watermill Blog entry

Go to the previous entry before this Willson Lathe story

Learn how to Support Us

Return to our Home Page