A whole bucket to use as a pattern.
It took all morning, but we managed to get a whole bucket out of the well preserved section of the waterwheel.
The buckets are made from sheet steel between 2 and 3 millimetres thick so they are not flimsy. When the wheel was assembled the buckets would have been a very snug fit and the lime-scale and rust of the last 120 years have made them even tighter. Hedley had to apply a great deal of scientifically applied force to ease the bucket out intact and almost undamaged.
As a result of all this effort we now have a good pattern for the buckets that need to be replaced, which is most of them.
Once the bucket was safely out, Hedley got on with cutting off more of the rusty bolts on the rest of the wheel.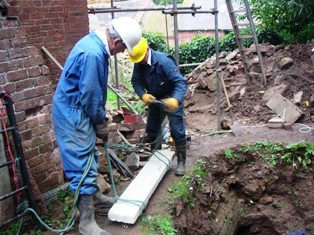 Elsewhere on the site John carried on rebuilding walls while Derek and Martyn got on with sorting out the opening into the culvert.
After a slight misunderstanding with the builders merchant we got a lintel to insert into the opening and by the time that rain brought the day to an early end the lintel was in place. We will give it a week for the mortar to cure and then we can take the needles out and finish the channel.
At the end of the day Martyn took the whole bucket home to make a drawing and find a supplier for the replacements.

Go to the next entry by clicking here.

Finished reading about our whole bucket? Look for other posts.

Leave the Shelsey Mill Blog and return Home