Watermill Blog
November 2009
This November watermill blog is very much a story of 'more of the same'. the only new task stated this month was the sealing of the woodwork that comes into contact with grain or meal. This is done by applying a coat of shellac varnish and is less interesting than it sounds.
Richard bought a supply of shellac, a naturally produced lacquer, and mixed it with methylated spirit to make a thin varnish. This is quick drying and gives new timber a nice finish. It has the great advantage of being edible so is ideal for sealing timber that comes into contact with food. It is even used to put the shine on sweets. 
The refurbishment of the winnower continued with the two screens being repaired with modern mesh. 
We did try to weave the mesh as it seems to have been done originally but the results were pretty poor and very time consuming so we gave in and bought suitable mesh to fit.
Under the screens there is a wooden floor to direct the cleaned grain down to the underside of the machine, while lighter particles are blown out of the end. The next step is to give it a try with a reasonable quantity of grain to see if it works.
here was one new arrival during the month, a Denbigh pillar drill. This old drill is clearly marked 'War Finish' on
the gearbox so we suspect it dates from the 1940's.
As you can see, it arrived on a flat bed trailer that fortunately was small enough to wheel carefully round the mill to just outside the stable door.
From there we could haul it inside the stable with a minimum of dismantling, mainly projecting parts that we didn't want to break off. A quick inspection suggests that the drill is in good condition so we will probably bring it into use, probably with an electric motor for convienience.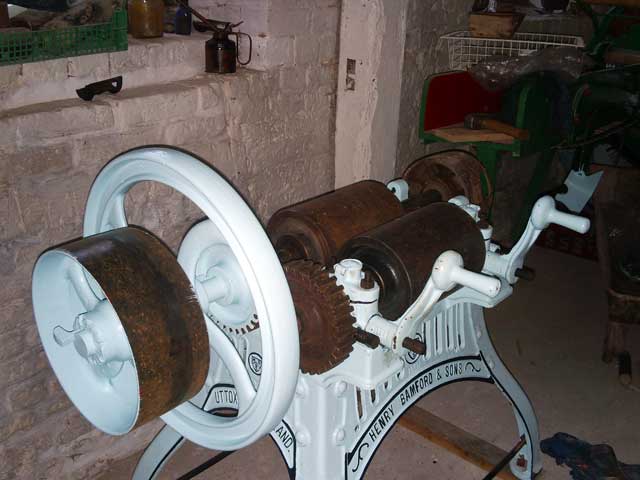 Elsewhere in the stable workshop the Bamfords Quick Mill continues to take shape.
Most of the parts have been cleaned and re-painted and we are waiting for some new bearing shells to be cast before we can continue the rebuild.
This machine is already sited in its final location and we will need to extend the lineshaft in the hay-loft above to drive it. We have the necessary wall brackets but will need to fabricate more bearings to suit whatever shafting we can find.
A fair amount of thought has gone in to providing guards inside the mill to keep stray children from wandering into the machinery. Our solution is to make wooden frames filled with steel mesh that can be fitted in the openings without any alteration to the original structures. Other areas of the site will probably get similar treatment in the coming months.
Go to the next entry

Go to the previous Watermill Blog entry

Learn how to Support Us

Return to our Home Page