Watermill Blog -  Steady Progress
6th - 27th May 2008
This watermill blog has to start with sad news. Reg Phillips,a long time hill-climber and a supporter and benefactor of the Shelsley Watermill Society died recently at his home in Salcombe. He will be sadly missed by so many people.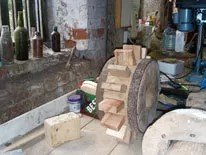 May seems to be a popular month for catching some early summer sunshine as a number of team members have escaped to sunnier spots in the last few weeks, the webmaster amongst them. In spite of the reduced numbers the remaining team members have made some steady progress and have even recruited a new member, Bob. He comes from Malvern and has retired recently and is very welcome.

The drive shaft to the upstream pair of millstones is back in place. The bearing that sits in the bedstone has been repaired and should be good for another hundred years or so.Work on the sack hoist drive has moved forward. Dick removed all the rotten teeth and inserted replacements.

He has also turned up some new cheek pieces to fit onto the windlass shaft to replace the worm-eaten originals.

We are almost ready to replace the upstream runner stone back onto the drive shaft and can start thinking about re-assembling the woodwork that feeds grain into the stones.

The team were able to demonstrate the waterwheel turning the centre shaft at last Friday's social gathering of MAC members. We had a trial run on Thursday that was captured on video.ome of our optimism proved to be badly misplaced. The main gear, made of wood and with wooden teeth, is far more worm eaten than we had realised.

We knew that the old teeth were beyond hope and have had replacements made for us by MAC member Brian Dixon, who also supplied the apple wood to make them out of.
Removing the old teeth in preparation for fitting the new ones revealed that the timber wheel had been attacked by woodworm practically right through from top to bottom.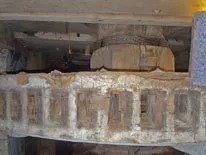 If we try to turn the stones with this gear it will probably disintegrate so we will have to make an exact copy to replace this one. Making the wheel is one thing but cutting the 64 tapered mortices for the teeth is quite another thing. Expert volunteers please form an orderly queue!

We are seeking advice from our friendly mill expert and will have to keep the Planning and Conservation Officers informed as well.

On the subject of Planning, we have submitted some applications for Listed Building Consent for a number of small changes around the mill and we look forward to getting the go-ahead for the work. These applications have been prepared by Dave, working from home, so even if we haven't seen him at the mill very much recently he has probably been putting in more hours than the rest of us.

Go to the next Watermill Blog entry

Go to the previous Watermill Blog entry

Learn how to Support Us

Return to our Home Page