Watermill Blog -  A Tidy Day
3rd June 2008
The first working day in June was blessed with warm, if sometimes showery, weather. A good sized team turned up and spent most of the day tidying up and finishing off a number of jobs.
One job that was finished while the webmaster was away and unrecorded until now is the installation of the timber block support for the outer waterwheel bearing.

As you can see in the picture this is one solid piece of oak in place of the makeshift collection of timber that was the temporary support.

The bearing block has also been drilled and tapped to take a greaser to keep the whole thing well lubricated. Our intention is to screw the greaser in place whenever we want to run the wheel.

Last week the team had freed the old belt-driven root shredder from the bolts holding it to the floor.

The plan was to lift it to a new location for investigation and restoration but this proved to be harder than expected. It is just too heavy to lift with manpower alone.

For the time being it is going to stay where it is, but we will probably have to dismantle it to move it. It will have to be moved eventually as the MAC has plans for that part of the barn and we want to be able to demonstrate how it was powered from the waterwheel via the PTO shaft.

Today's team was Martyn, John, Kim, Bob, Jonathan and Derek with Richard taking pictures and making encouraging(?) noises. They cleared a lot of builder's stores out of the stable, mostly scaffold boards and the like, and had a good sweep up. Derek had brought his big strimmer with him and made serious inroads into the weeds and grass that have sprung up with the warm damp weather.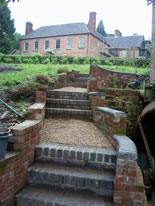 After lunch attention turned to the steps up past the waterwheel, or more precisely to the slopes between each flight of steps. Much hardcore was shovelled and raked and then pea gravel applied over the top.

It looks very smart at the moment and we hope it will stay looking good. The intention is to treat the area outside the front door of the mill in a similar way, leaving the old mill-stone exposed.

The local wildlife seems to as active as ever. The moorhen has been seen on the mill-pool again after a couple of days when she hadn't appeared and the grey wagtail has built another nest and looks to be sitting on another brood of eggs. We will watch from afar.

Go to the next Watermill Blog entry

Go to the previous Watermill Blog entry

Learn how to Support Us

Return to our Home Page