Watermill Blog -  Line Shafting
5th August 2008
The weather was unsettled today and most of the team found indoor jobs to do.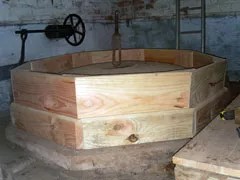 Richard carried on from where he left off last week, working to construct a copy of the upstream tun.

By close of play the sides were complete and it now only needs the partial decking adding to finish the job off.

Derek sorted through the rubbish bins in the workshop, picking out anything that could be recycled and building a bonfire with the rest. A job that has needed doing for some time, thanks Derek.

John and Jonathan dodged the showers and worked on the stepped path. The last footings have been dug and concrete poured for the edging.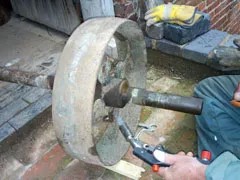 Martyn, Colin and Bob tackled a length of line shafting that we have. This had two pulleys in place, neither of which was located where we could use it.

The pulleys were firmly fixed to the shaft, of course, and time has fixed them even more solidly.

The application of heat loosened on of the pulleys and it was safely removed from the shaft but the second pulley was more stubborn.

We ran out of gas for the blowtorch and the rain was getting heavier, so the shaft and pulley were carried into the workshop to await a second session.

With rain falling steadily we packed up early, hoping the weather would be better on Thursday.

Go to the next Watermill Blog entry

Go to the previous Watermill Blog entry

Learn how to Support Us

Return to our Home Page