Watermill Blog -  Blacksmith
25th September 2008
Headley has been taking lessons in blacksmithing and he has made new chains to lift the stone nut gears out of engagement with the great spur gear

All that was needed to finish them off was the small hooks that  fasten the chains to the windlass.

To work properly the chains need to be the correct length and to have the hooks at each end aligned with each other. The first picture shows Headley checking the alignment.

After a few adjustments he was happy with the results so the next step was to fit the chains in place.

Once the old rope had been removed it didn't take long to fit the chains and try them out.

As you can see, they hold the stone nut well clear of the spur gear teeth, just as they should.

Of course, Headley was not alone at the mill today. Colin, Richard, Bob, Max and Derek made up the team and got on with mostly routine jobs.

Derek did his usual excellent job of tidying up the grounds and even loaded up his car with some re-cycleable rubbish to take home.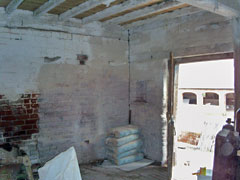 Max fitted floorboards round the sack hoist control ropes were they pass through the top floor.

We had left various gaps in the floor because we weren't sure where the ropes should run but this now resolved.

Colin, Bob and Richard spent the day slapping more limewash about. The ground floor of the mill has now had two coats, which should be enough for now.

Richard made a start in the stable workshop and the last picture gives a small idea of what strange paint it is to work with. It is about the consistency of milk and seems almost colourless when it is first applied.

It then dries to a stark white, we hope! Some of the previous limewash can be seen at the top left of the picture, much whiter than the fresh coat.

Go to the next Watermill Blog entry

Go to the previous Watermill Blog entry

Learn how to Support Us

Return to our Home Page