Watermill Blog -  Adjusting Cogs
10th July 2008
We got slightly frustrated today. Dick completed the final re-assembly of the sack hoist windlass and we all thought we could fit it back into place and see it spin under water power.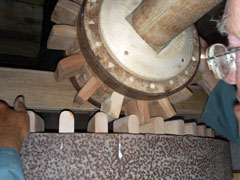 We quickly found out that it was not that simple. We needed to adjust the position of the pinion to get a reasonable depth of mesh.

This entailed dismantling the support beam that carries the pinion end of the windlass and then modifying the outer end.

This was part of the mechanism that we had to guess because the original part was long gone and our guess was a little bit out. Richard made some modifications to the shape and the whole lot was re-assembled. At various times this involved Colin, Max, Headley, Richard and John although not all at once.

Headley's main task for the day was to remove the last of the cogs from the great spur gear in preparation for fixing of the reinforcing plates. John and Max marked out and dug the footings for another step on the millside path. Concrete was also poured, so the footings will be ready to be built on next Tuesday.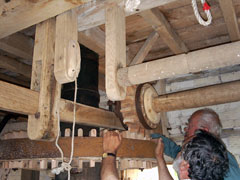 With the sack hoist drive re-assembled it became clear that we needed to do a bit of fettling on the cogs.

Now we know where to look, a close examination of the worm-eaten cogs that we have replaced reveals tool marks where the cogs have been roughly shaped to improve the mesh.

Up until we tried it for ourselves we had assumed the cogs had worn into the shapes we found, but although there is some wear most of the shaping is deliberate.

By the time we packed it in for the day the cogs in the pinion had been re-shaped and a few of the cogs in the crownwheel had also had the treatment. At least the cogs don't break when they clash, the pinion climbs out of engagement instead. At least that is what happens when we turn everything by hand, we haven't dared try it under water power yet.

Go to the next Watermill Blog entry

Go to the previous Watermill Blog entry

Learn how to Support Us

Return to our Home Page