Water Mill Blog - Christmas Break
The team gathered at the water mill on the 20th December 2007 for the last working session before the Christmas break. Another frosty day meant that we all tried to keep busy or close to a heater.

Colin and Richard arrived much earlier than usual because we were expecting visitors from the County Council at nine o'clock. In the event we had a single visitor from the county archaeological service who arrived right on time and carried out a photographic survey of the mill, inside and out.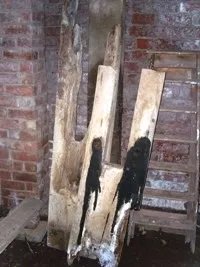 The rest of the team arrived at their more usual times. Martyn, Colin, Max and Headley worked from both inside and outside the mill to unbolt the last of the rotten timbers from the hurst.

We have identified a supplier of suitable oak and we will be repairing the damage early next year, re-using as much of the original timber as possible.

In effect we are going to repair the repair that was done at some time in the past.

Dick arrived with more parts of the chaff cutter that he has worked on, and also with a partly assembled work bench he had made. He spent most of the day finishing the work bench which will be used to take the power saws that we have, one circular saw and one band saw.

Derek trimmed the overhanging branches from one of the laurels and did some more landscape tidying.

It was too cold for bricklaying so John joined Richard in the hay loft, nailing down floorboards onto the joists replaced on Tuesday. We need to make the three hatches that go at the side of the loft and that section of the hay loft will be ready to use.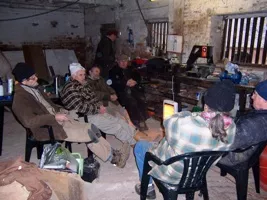 The temperature outside barely rose above freezing all day and the team was grateful for the heaters set up in the stable.

After more mince pies had been consumed (thank you Derek) and lunches eaten the general air of relaxation before Christmas got to all of us.

Dave captured the mood well with this picture of nearly all of us warming our feet around the heaters. We did go back to work eventually but the holiday spirit won out and we just tidied up ready for the new year and went home early.

As we were leaving we noticed the mill stream was very low. We checked up at the pool and the Court House team have finished the work on the pool and have started to fill it. We should be able to run the wheel when the MAC members meet on New Year's Day.

On that note, the Shelsley Water Mill team wishes everyone a Happy Christmas and a successful New Year.

Go to the next entry by clicking here.

Go to the previous Water Mill Blog entry

Learn how to Support Us

Return to our Home Page