Water Mill Blog - Old Tools
4th December 2007
There was  donation in the summer that has escaped this Water Mill Blog until now. This particular donation was several boxes of old tools, some car related but also some much older tools that date back to the building of wooden ships in the yards at Dumbarton.

One of our members, Dick, has been restoring these tools in his spare time and we now have a few that can be used as originally intended.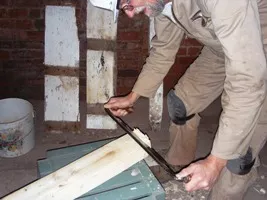 Along with Martyn, Dave and Kim, Richard spent this Tuesday replacing rotten and broken joists in the floor of the hay loft.

Each new joist needs to be a replica of the one coming out and the ends needed to be shaped.

This gave us the opportunity to try an old drawknife. After one false start Richard worked out the way to get the best from the tool and it proved to do a great job.

Martyn and Kim cut the joists to the correct sizes on a large table saw while Dave and Richard shaped the ends to fit the sockets. There was a bit of a learning curve while we worked out how the joists were tenoned into the beam, but the opposite end was easier to understand, just a socket in the brick wall.
We already have a supply of floor boards and we have checked the width of the new boards against the old.
As you can see they are almost exactly the same width so we won't have to cut the new boards down, which is a relief.

Once we have completed the necessary joist repairs we will be able to lay new boards and be much less circumspect about where we tread.

While all this was going on in the hay loft John was keeping busy laying yet more bricks. The retaining wall that extends from the bottom of the steps towards the farmyard is growing well and as the light started to fade John admitted that he had had a good day.

At this time of year the light goes quite early, especially when it is overcast. These shorter days make for shorter entries in the Water Mill Blog and that's about it for this entry.

Go to the next entry by clicking here.

Read the previous Water Mill Blog entry

Return to our Home Page