Tailrace opened.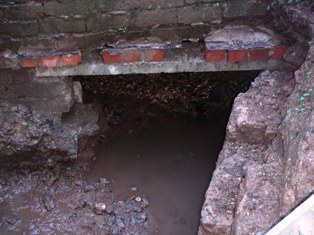 A select group met this Tuesday. The tailrace had the last obstructions removed and we now have a good opening through into the culvert.
The needles came out without any trouble and allowed us to get at the last of the concrete blocking the race. A borrowed diamond cutter and a demonstration of how to use it saved us a lot of work so it was just a matter of lifting the concrete out of the hole.
One rope, a sloping ramp and three determined pensioners did the job. It would be nice to say easy, but it would be economical with the truth. Once that was out the way Martyn spent some time clearing mud and rubble from the race and the culvert.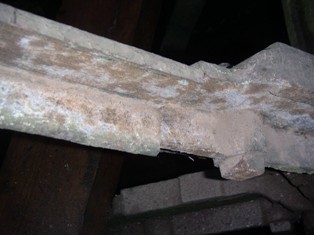 One of the little jobs that need doing on the waterwheel is to make and apply a splint to a broken spoke. A number of the spokes already have plates riveted on to repair cracks but there is one near the hub that is untreated. Hedley spent the morning shaping plates to fit and will drill them in his home workshop. When he had finished Richard moved in with the needle gun to clean up the area where the plates will go.
John, you've guessed it, carried on rebuilding walls.
The conversation over lunch was largely about how we treat the opening of the tailrace tunnel to give it an authentic appearance. A shallow brick arch is the obvious solution but we are not sure of our collective ability to build one. We'll give it a try though.

Go to the next entry by clicking here.

Read about the tailrace? Look for other posts.

Leave the Shelsey Mill Blog and return Home