Some skilled woodworking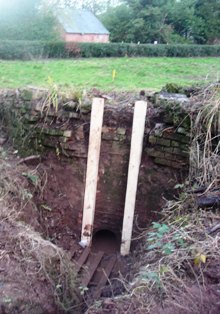 This Thursday Adam joined our team and showed us some skilled woodworking as he made new timbers for the headstock valve to go in the mill-pool. He brought with him an impressive array of power tools and clearly knows how to use them.
The headstock valve sits against the wall of the mill-pool and controls the flow of water into the sluice pipe or it will do when Adam has finished making it. The runners of the old valve had survived but nothing else was left. Adam's skilled woodworking made it look easy and we now have new runners in place and the valve and control gear will be added soon. Unlike the rest of the team, Adam still works for a living, so we are grateful to him for taking a day's holiday to work on Shelsley Watermill.
At the other end of the sluice pipe, Headley has now fitted the new stack pipe to the top of the sluice box to replace the old one that had been broken off towards the top. The new pipe is made from stainless steel so we shouldn't have any corrosion problems and with a coat of paint on it looks just fine. If it looks as though it is leaning over in the photo it just a trick of the light!


Guess what. John carried on bricklaying. This time he is working on the curving wall above the waterwheel pit that will meet the side wall of the same pit. This particular wall looks quite challenging to build because the footings are far from level and there is quite a tight curve as well. John just gets on with it, and the results always look good, so we leave him to it.
Inside the mill we have found an early answer to the damp penetration. Dave and Max have started to prepare footings for brick pillars needed to support the floor above. As soon as they started to dig they hit clay drain-pipes laid parallel to the wall. These pipes are the porous clay used as land drains and were obviously intended to take moisture back outside the mill after it had seeped in.
We have not yet traced all of it, but there appears to be a similar drain roughly parallel to the other damp affected wall, so the surmise that the mill was always damp and the miller just worked around the problem looks as though it may be correct.
In spite of the need to work around drains the footings for the largest pier have been poured so we can start building that one next week. Maybe there will be one less acro-prop to avoid by the end of the month.
All in all we had a good day with some skilled woodworking to admire as well as all the other little and not so little steps forward. It is noticeable that the light is lasting a little longer each time we meet as well which helps keep our spirits up.

Go to the next entry by clicking here.

Enough skilled woodworking? Click here to see the previous article.

Leave the Shelsey Mill Blog and return Home