Ready for Summer
We have completed the repair to the hurst and are now ready for the summer and our first visitors.
The new ground beam is safely in place and the brick floor has been relaid. The beam is solid oak, supplied by Hillend Sawmill at Martley, our local friendly supplier, and should last for quite a few years.
Taking the old beam out showed us that this has been done on at least one occasion in the past, possibly more. The vertical posts would have been mortised into the ground beam when the hurst was first built but there were no  mortises in the old beam that we removed and the uprights had been toe-nailed onto it. The nails were of wrought iron and so rusty it was difficult to make out what they must have looked like when they were new.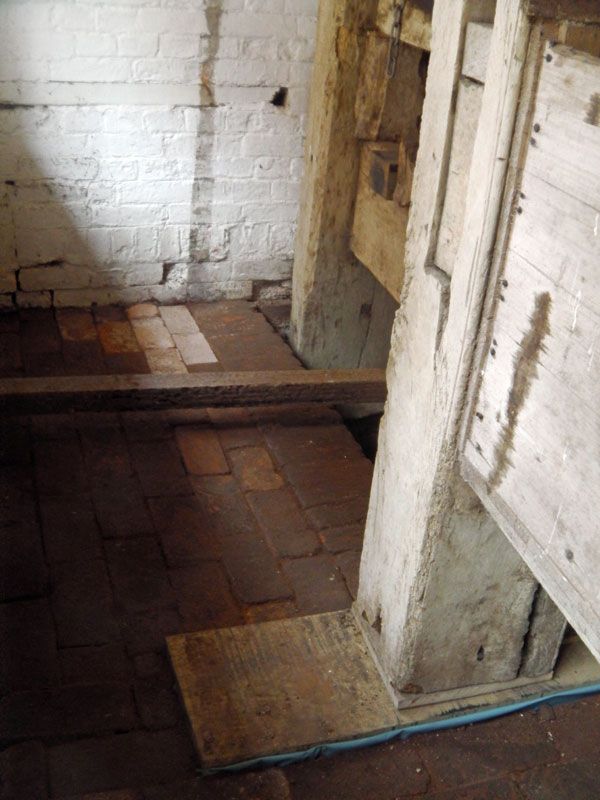 The amount of soil that the rats had removed from under the brick floor had to be seen to be believed, and it took a couple of barrow loads to replace it. We also took the opportunity to underpin a short length of the outside wall that hadn't got any visible footings. 
With everything on this level now sound and secure we have replaced the guards and had a general tidy up ready for summer visitors.
On the stone floor we have finished all the work on the plinth round the upstream pair of stones and replaced the tun and all the superstructure. With that done, we tidied up on this level as well and then had a brief trial run of the  wheel, the first run of 2012.
Sunday 15th April saw the MAC run one of their regular Breakfast Club events and we ran the mill for an hour or so for anyone who wished to have a look around. The next Breakfast Club coincides with National Mills Open Weekend, 12th and 13th May so if you come on Sunday 13th there could be some interesting cars to look at as well as the mill itself.
Part of the preparation for the Open Weekend has included putting up a plaque commemerating the re-opening of the mill during the 2010 Mills Weekend. We have fixed this above the front door of the mill so that it is clearly visible from the gate.
We have a number of bookings for groups to visit the mill, including the local Guide Troupe, but there are still plenty of dates available if you would like to come and see for yourselves. You can book a visit for this summer via our Bookings Form.
One of our volunteers recently gave an illustrated talk to a local History Group on the subject of Shelsley Watermill and other local mills. This seemed to be a success, so we would be happy to do a similar talk to other groups within reasonable traveling distance of Shelsley Walsh. If you are interested why not get in touch via our Contact Page.
Go to the previous Watermill Blog entry
Learn how to Support Us
Return to our Home Page