Power Failure
30th August 2007
The team today consisted of John, Headley and Dave, with Richard a part time spectator. The main feature of the day was a power failure that delayed any work with power tools until nearly two o'clock.
The day started well enough with all the team members arriving in good time. John wanted to mix mortar and get on with the stone wall we discussed on Tuesday, Dave was determined to rake out the mortar joints in the wall above the wheel and insert HeliBar reinforcements and Headley intended to drill and fit the first few splints on the broken spokes.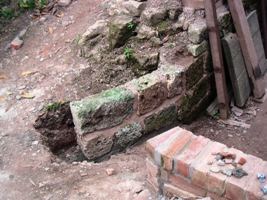 The power cable was run out and tools lined up all ready to go and then we realised that all the power sockets were dead. A quick check with the MAC office found that the entire site was off. We remembered that we had a portable generator left at the mill by Martyn and dragged this out. Martyn's ears probably glowed as we tried to coax it into life. After a strenuous and fruitless half-hour plans got re-arranged.
John continued with the stone wall and got two courses of tufa stone laid by the end of the day. It doesn't sound much but check out the picture, it is quite a large chunk of wall. All done with lime mortar, mixed by hand.
Dave abandoned the HeliBars and did some bricklaying at the corner of the barn, again using hand mixed lime mortar. While this job is just as important as the wall above the wheel it doesn't need any scaffolding and we are keen to finish with all the borrowed scaffold poles so that we can return them to John Stinton, the builder who has been so helpful throughout all the work we have done so far.
Headley abandoned ideas of drilling holes and loosened a few nuts instead. His oxy-acetylene torch has all the power it needs in its bottles.
Most of this was not witnessed by Richard who skived off to make sure his in-laws caught their train home okay. Apparently the power came back on shortly before he returned and the three workers had gone back to plan A.


By the end of the day Headley had successfully made a template for drilling the holes in the spokes so he was reasonably happy. Dave made an incredible amount of dust chasing out the mortar joints above the waterwheel with an angle grinder. He had hoped to get everything chased out and then pointed up but the late start meant we left things as you can see in the picture. At least we have a flying start next week.

Go to the next entry by clicking here.

Read about the power failure? Click here to see the previous article.

Click here to see how you can support us.

Leave the Shelsey Mill Blog and return Home.