The Hay Rake Moves On
4th September 2007
The old hay rake that has sat beside the mill for many years moved on to fresh pastures this afternoon. We had an opportunity today to have some earth moving done for us by a friendly contractor, but the old implement was in the way, yet again.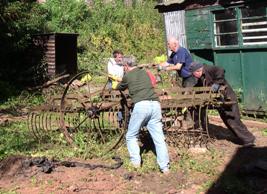 Martyn, Colin, John, Richard, Headley, Dave and Derek, the whole of today's team, got stuck into the problem and managed to dig the wheels out enough to be able to roll the entire rake over. We still couldn't move it any further and it was now even more in the way. An examination revealed that the wheels could be taken off the ends of the rake and replaced on stub axles on the sides, making the whole thing easier to move. Great, but the wheels hadn't been taken off for at least fifty years and were a bit stiff.
Enter Headley and his trusty oxy-acetylene torch. It's amazing how rust responds to being heated up to red heat. With a fair amount of grunting and sweating each end of the rake was lifted, the wheel removed and replaced on its alternative axle. This did the trick and we were able to roll the entire hay rake round the corner out of the way.
We all came together to move the rake but a number of jobs moved forward today. Colin spent quite a while underground clearing the culvert while Dave was suspended in mid air pointing up the mill wall above the waterwheel. Martyn continued repairing a hole in the stable wall and John built another course of stone onto the wall beside the waterwheel. Derek carried on the heavy duty weeding towards the return road and Headley fitted the first splint to a broken spoke, dodging falling mortar from the pointing work above him at the same time.
Apart from helping with the hay rake Richard did a bit of general labouring and tried to get some photography done for the display at the Shelsleys Heritage Open Day on the coming weekend. The display will be in All Saints Church, Shelsley Beauchamp on Saturday and Sunday. Should be worth a look if you are in the area, and it's a hillclimb weekend as well so plenty to see.

Go to the next entry by clicking here.

Happy about the hay rake? Click here to see the previous article.

Click here to see how you can support us.

Leave the Shelsey Mill Blog and return Home.